Prototype and Visualize User-Centered Interactions
Quickly add custom interactions to screens to simulate application experience. You can easily and effectively express interactive design concepts – no code needed - while still supporting a near full range of application behaviors.
Add Interactions to Anything!
Interactions are native to Indigo, so you can add them to anything. You don't have to create some special kind of dynamic panel or control - just select what you want to make interactive and click ADD INTERACTION.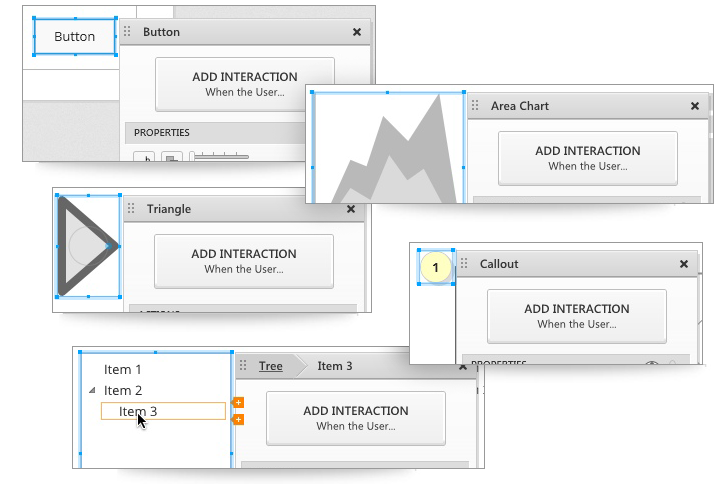 User-Focused Interaction Design
Design interactions from the user perspective. Select what the user does, and then what happens to the prototype as a result.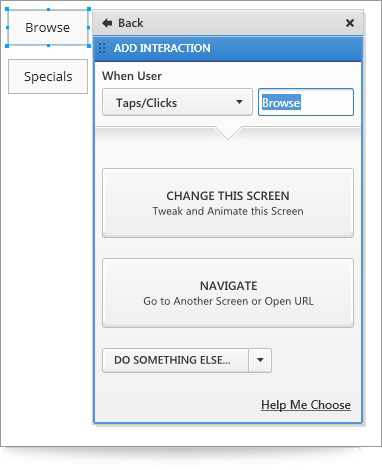 Preview
Quickly try out interactions and tweak them by running a screen preview.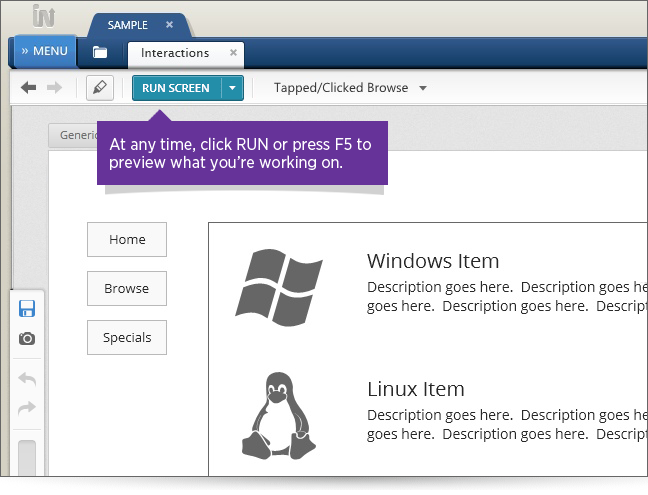 Screen Interactions Explorer™
Visualize the screen interactions and states using the Screen Interactions Explorer. You can use it to understand and navigate the different possible interaction flows for users.
Mini Interactions Explorer
Navigate quickly between screen interactions using the Back and Forward toolbar buttons and the Mini Interactions Explorer.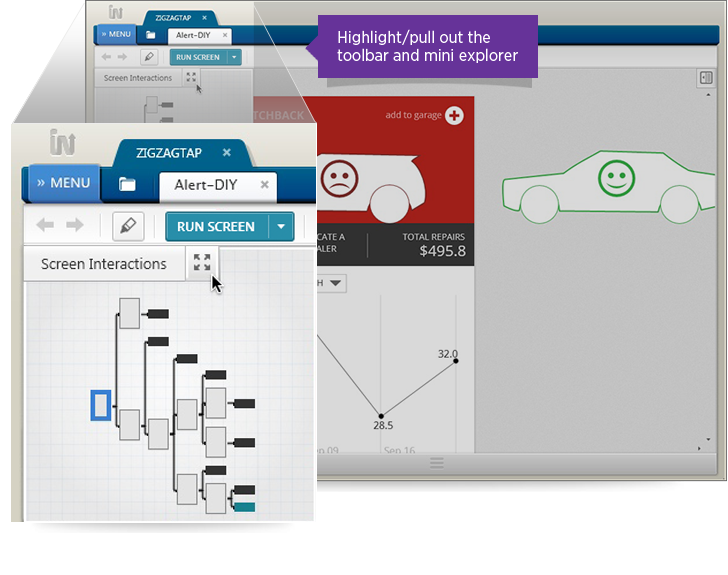 Highlight Interactions
Highlight interactions defined on a screen and quickly navigate through your prototype while designing it.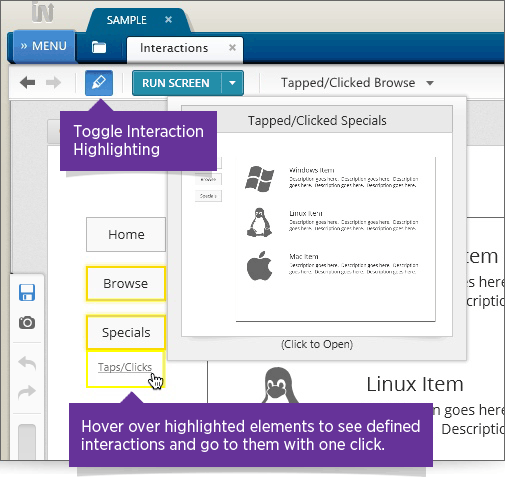 Export to Storyboard
Export all the screens or some selected screens to show a particular user path. Indigo Studio creates a storyboard based on those screens, so you can better communicate with stakeholders and developers.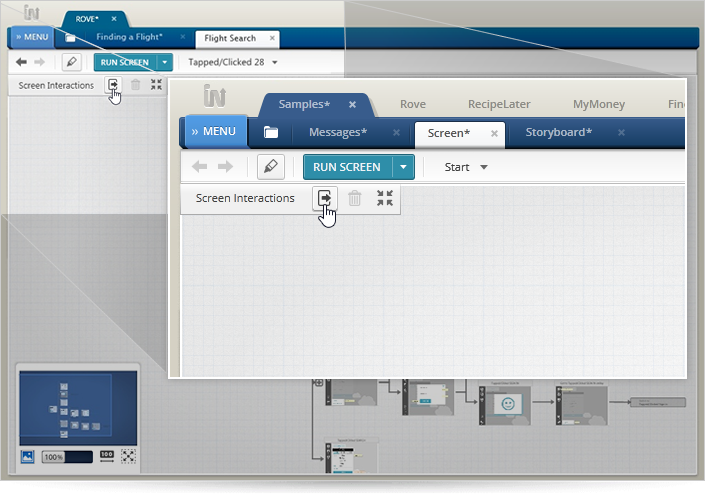 Story-based Prototyping
Story-based prototyping lets you specify a single path for users to follow, so that interactions turn on when you want the user to choose them.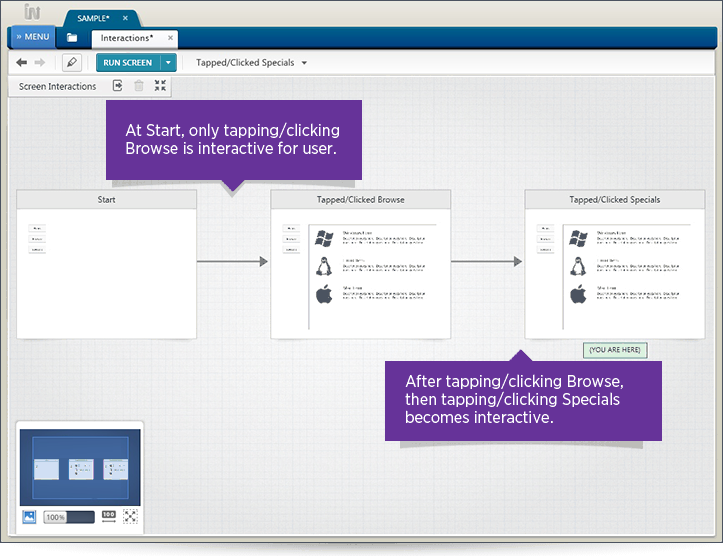 App-like Interactions
Convert your story-based interactions into more app-like interactions by rearranging them within a screen and changing when they become available to users.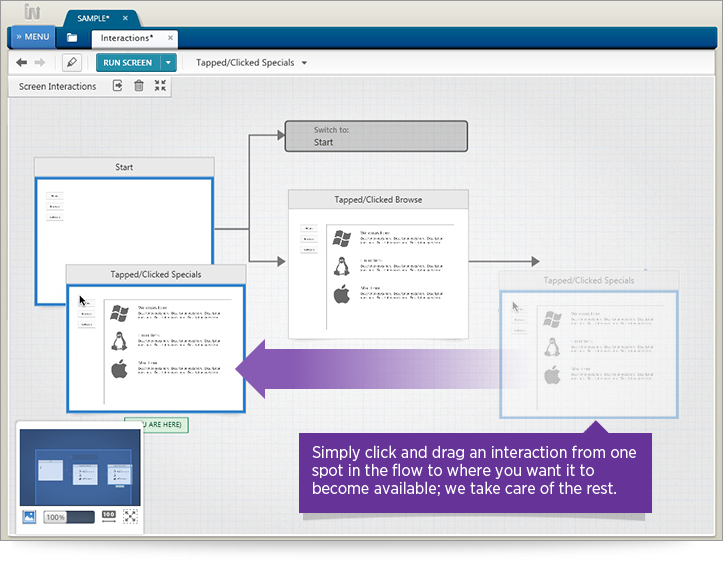 Visualize Project Level Flow
Visualize project level flow to see connections and links between screens.