Chart Financial Series & Financial Indicators
Financial charting scenarios offer support for both Candlestick and OHLC bar charts, as well as many built-in financial indicators.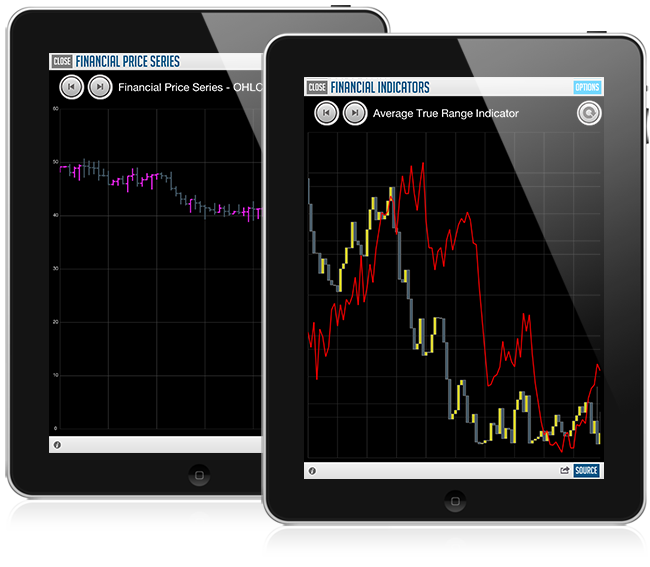 Financial Price Series in Candlestick Mode
Financial Price Series in OHLC Mode
Financial Indicators include:
Average Directional Index Indicator
Absolute Volume Oscillator
Accumulation Distribution Indicator
Average True Range Indicator
Typical Price Indicator
Bollinger Band Overlay
Bollinger Band Width Indicator
Chaikin Oscillator Indicator
Chaikin Volatility Indicator
Commodity Channel Index Indicator
Detrended Price Oscillator Indicator
Ease of Movement Indicator
Fast Stochastic Oscillator Indicator
Force Index Indicator
Full Stochastic Oscillator Indicator
Market Facilitation Indicator
Mass Index Indicator
Median Price Indicator
Money Flow Index Indicator
Moving Average Convergence Divergence Indicator
Negative Volume Index Indicator
On Balance Volume Indicator
Percentage Price Oscillator Indicator
Percentage Volume Oscillator Indicator
Positive Volume Index Indicator
Price Channel Overlay
Rate of Change and Momentum Indicator
Relative Strength Index Indicator
Slow Stochastic Oscillator Indicator
Standard Deviation Indicator
StochRSI Indicator
TRIX Indicator
Ultimate Oscillator Indicator
Weighted Close Oscillator Indicator
Williams Percent Range Indicator
Value Overlay
A Value Overlay uses the value property to bind a numeric value to display as a line superimposed over other types of series, in order to highlight important values such as a data set's mean, median, or mode. The Value Overlay uses either the horizontal or vertical axis, as a reference, when bound to an IGNumerXAxis and IGNumericYAxis respectively, as a line segment emanating from the center of the chart when bound to an IGNumericAngleAxis or a circle when bound to IGNumericRadiusAxis.