Quince is included in your purchase of Infragistics 
Ultimate
.  Try Quince Free for 30 days.
Bringing Designs and Teams Together
Two Great Toolsets
Quince and Quince Pro are our UX and UI pattern library tools that simplify the design review process. With the free, community-driven version of Quince, interaction designers and developers can collaborate, communicate and cultivate design libraries, while discovering ways to use the patterns to create better user experiences. As an interactive collaboration tool, Quince offers a dynamic community where you and your team can be inspired to create full-featured and great-looking UIs, while sharing ideas.
Check Out the Quince UX Patterns Explorer!
Quince Pro goes even further, to give you more control over your own projects. Great features - like My Corkboard and Secure Sharing – mean you can develop and maintain your own private libraries, and collaborate on UX projects with team members anywhere in the world. You'll never need to update a Style Guide's long, unwieldy Word document again. Quince Pro lets your team continuously refine, nurture and cultivate design libraries for user experiences that are always fresh.
Collaboration Has Never Been Easier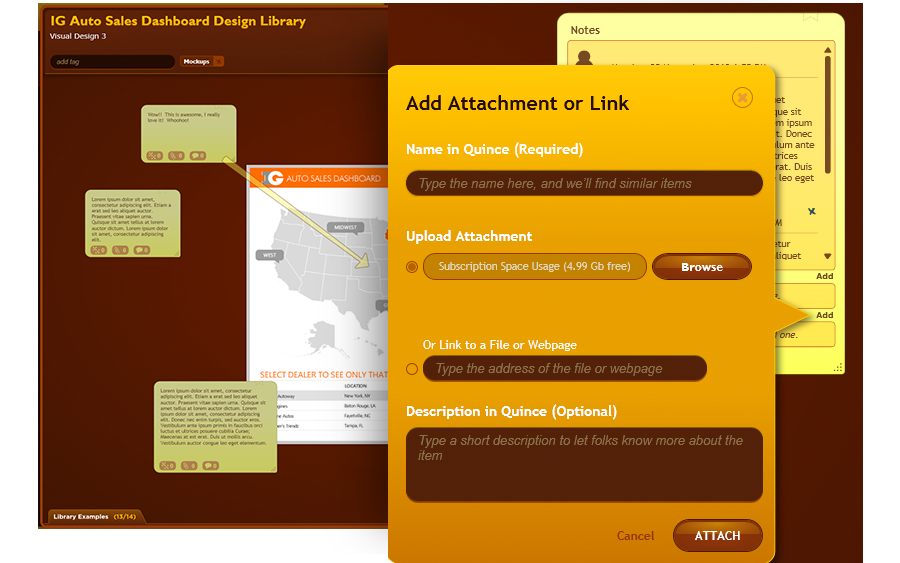 Online User Experience Sharing
Collaborate on Amazing User Experiences. Quince Pro enables you to develop your ideas in front of your team with callouts, notes, and attachments. You can post patterns describing best practices and share examples of compelling user experiences, then sit back to watch your UX style guide grow and evolve.
Communicate Easily and Effectively. Quince Pro tracks the design conversation through comments and feedback tied directly to design collateral organized into multiple, private design libraries. Communicate design frameworks, styleguides, and pattern libraries to all levels of your team from designers to developers to executives.
Cultivate Your Creativity in the Cloud. Quince Pro delivers benefits as a subscription-based service that's hosted on Amazon Web Services for best-in-class security, reliability, availability, and scalability. You and your team members can access Quince Pro from anywhere on any device running the latest version of Microsoft Silverlight—VPN not required. There are no IT support costs, no troublesome installations, and backups of your data are kept for as long you maintain a subscription.
Amazing User Experiences
Tools for Development
For interaction designers in an internal development team, you can create and manage style guides throughout your organization. Research and develop patterns in a living online library. Tag, catalog and quick link frequently used patterns and examples. Document the history and rationale of design choices in centralized, threaded conversations. Collect good examples of user experiences on My Corkboard to share in a private design library. Design agencies can create designs or a style guide for a client and can create multiple private design libraries per client or per project. It's easy to share design libraries and documentation electronically with your client. Augment your patterns with those from the public patterns library. Software developers building user interfaces can consult a collection of patterns before using Visual Studio® to build a User Interface. Search and locate specific details about a User Interface pattern faster than from a large document while using a patterns-oriented process.