What's New – ReportPlus 2.0
The initial release of ReportPlus garnered rave reviews ("Was able to reproduce my dashboard on my iPad within 5 minutes...took IT a month for them to do it."), but was just the first step for Infragistics in a journey in the business intelligence world. With more than two decades of experience in creating best of breed UI/UX toolsets and specific expertise in data visualization, Infragistics' ReportPlus is destined to be a leader in a new generation of mobile business intelligence solutions. ReportPlus 2.0 builds upon momentum from the first version, with further advancements in Connectivity and Styling, never losing focus on the goal of helping enterprises derive business insights on the go, in real time, with a lighter footprint. 
Support – Enhanced!
ReportPlus isn't just for iPads anymore. With iPhone support, ReportPlus becomes a universal iOS brand, empowering you to to create dashboards and reports across the family of iOS devices.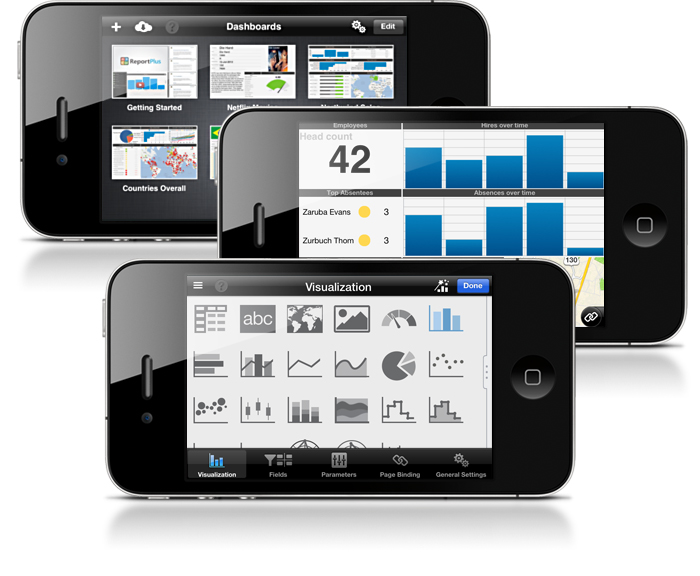 Connectivity - Enhanced!
Connect to an ever-expanding list of data sources. The following join Excel files, SharePoint, Dynamics CRM, Analysis Services, SQL Server, and Dropbox, to make ReportPlus the mobile BI reporting solution with the most comprehensive data source coverage: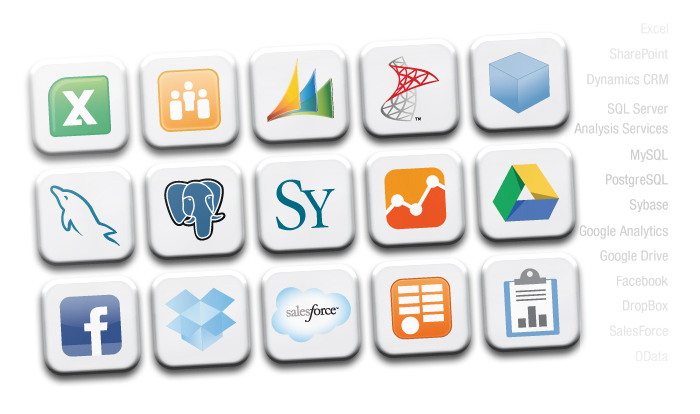 Salesforce 
Microsoft Dynamics CRM 
Hadoop Hive (HDInsight)
PostgreSQL database 
Google Analytics 
Google Drive 
Twitter 
Facebook 
Flurry 
UserVoice 
Styling – Enhanced!
ReportPlus 2.0 takes styling to the next level. Modify background and foreground colours or configure a background image at both the dashboard and widget levels. Adjust borders, margins, and padding for widgets. Customize your ReportPlus 2.0 outputs to be consistent with corporate branding.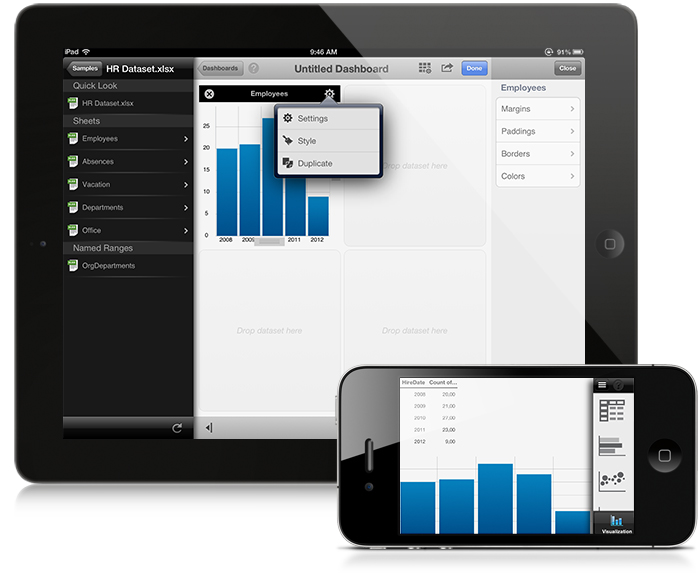 Dashboard Templates - Enhanced!
Achieve a running dashboard following a guided step-by-step process, no matter how savvy you are with advanced data analysis concepts. Dashboard templates in ReportPlus save you time and represent a solid starting point for extrapolating intelligence from your data. Version 2.0 ships with: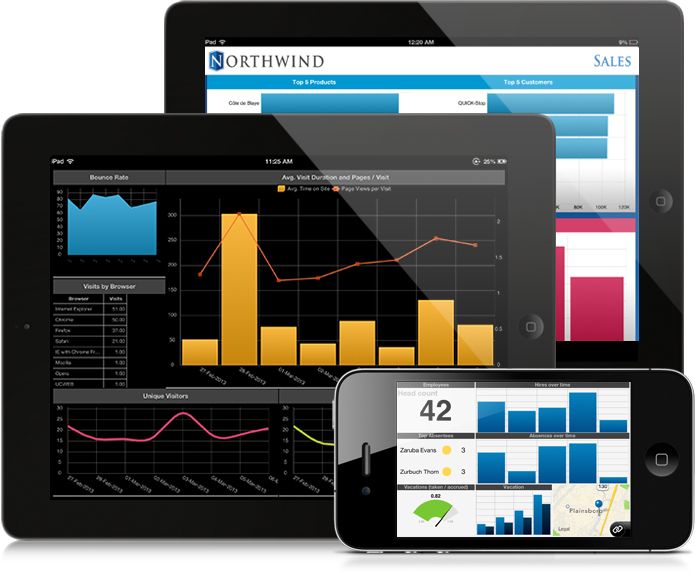 MS Dynamics CRM 
SharePoint Tasks 
SharePoint Issues (HDInsight)
Google Analytics 
Facebook Analytics 
Sales Pipeline 
Time Card 
Case Management 
Email Analytics 
Website Visits 
Chart Wizard - New!
Use the Chart Wizard in a step-by-step guided process to select the charting options based on your analytical requirements.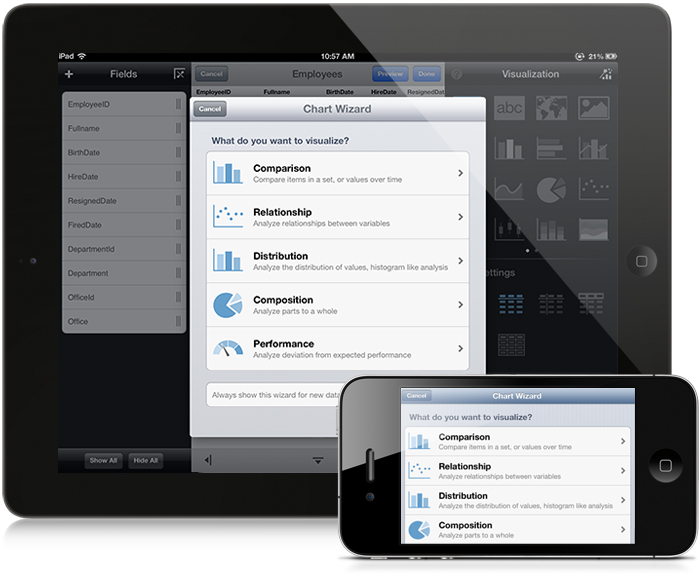 Open & Save from the Cloud - New!
Open & Save dashboards from popular shared storage platforms such as SharePoint, Dropbox, and Google Drive.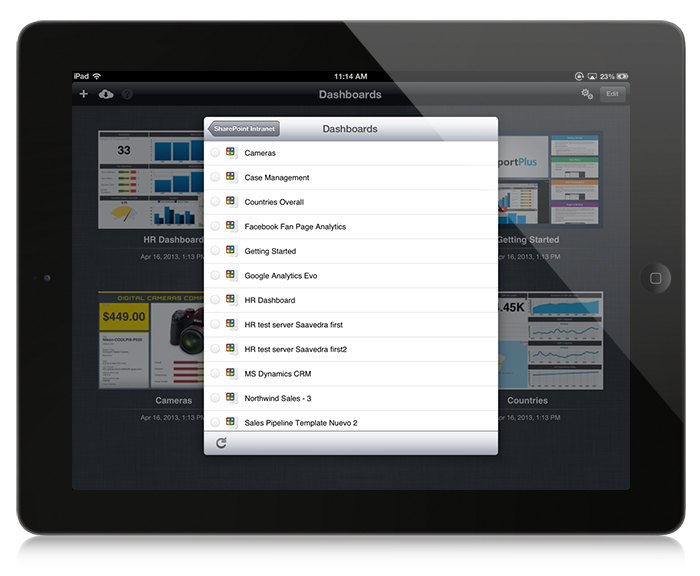 Read Only, Passcode Locked Dashboards - New!
With Read Only/Passcode Locked functionality, share dashboards while retaining control over who can make changes to designs and data inputs.
Multiple Pages - New!
Pages are a mechanism to define filters that are applied to all dashboard widgets at the same time, making it easier to navigate collections of elements. Until now, ReportPlus supported single page layouts. With v2.0's support for multiple pages, you can filter data by multiple dimensions at the same time for all dashboard widgets, for an improved user experience. By enabling Date Range pages, you can also filter by time.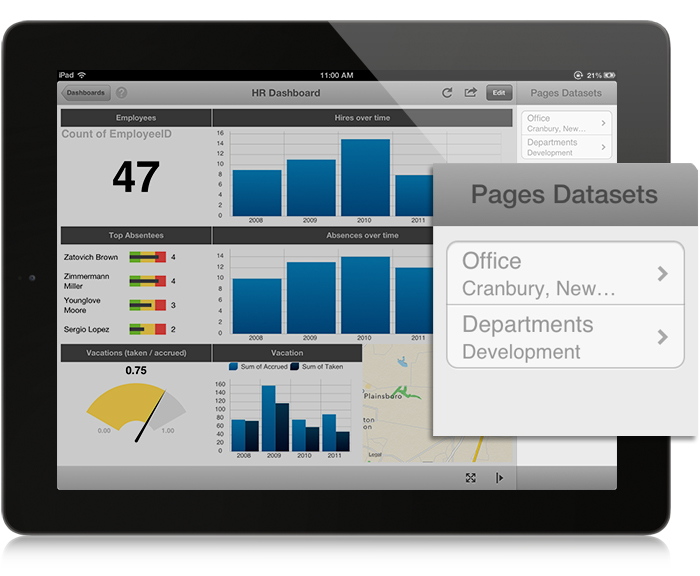 DX & SQL Query Manual Editing - New!
When a widget is connected to a database or analysis services data source, you can override the automatically generated query to make modifications or enter your own. This feature is targeted at advanced users that could use more control over joining data from multiple tables or applying more complex filters than the ones provided out of the box.