Infragistics Compression
Now you can open, extract from, create and add to Zip files from within your own Silverlight applications with an independent implementation of the DeflateStream class found in the .NET Framework, plus much more.
Zip Interop
Supports opening, extracting, creating and adding entries to Zip files within Silverlight, and have your Zip files be compatible with other Zip utilities. 

View Sample
Deflate Compression
Supports the widely compatible Deflate compression method, which can be tuned to optimize compression ratio or compression time.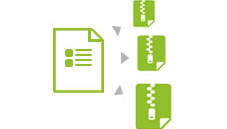 View Sample
Add/Extract Single Files
Add or extract single entries on-the-fly using Streams from a single Zip file containing multiple assets, and that takes up less space. 

View Sample
Password Protected
Add and extract password protected file entries in Zip files.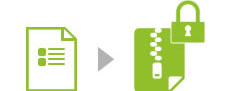 View Sample
Directory of Zip Contents
You can easily obtain the directories of Zip files, including file names, sizes and timestamps.

View Sample
Managed Zlib
The compiled assembly is built on a managed implementation of Zlib, so you can use Zlib compression, too.