Silverlight Linear Gauge
Make your data visualizations and dashboards more engaging with a Linear Gauge that shows off KPIs with rich style and interactivity. The gauges are powerful, easy to use, and highly configurable to present dashboards. This new Linear Gauge will ultimately replace a previously released version of the xamLinearGauge, and is compatible with the Ignite UI (jQuery/HTML5) and NucliOS (for native iOS) versions of the Linear Gauge, offering visual and functional parity on multiple platforms.
Configurable Scale
The Linear Gauge control lets you control the Start and End positions of the scale, major and minor tick marks, labels, and color ranges.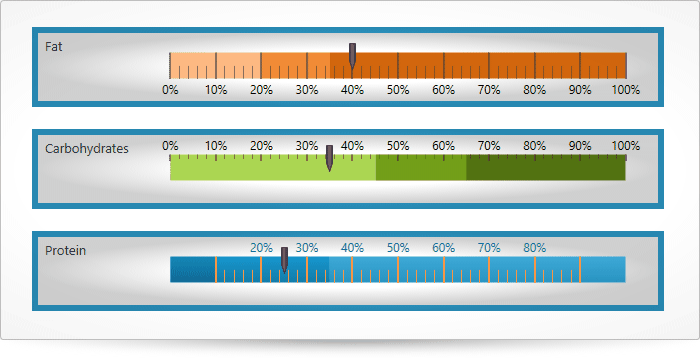 View Sample
Configurable Needle
The Linear Gauge control lets you control various attributes of the needle, including the needle color, length, shape. Use one of the predefined shapes – rectangle, triangle, needle, and trapezoid or create one of your own.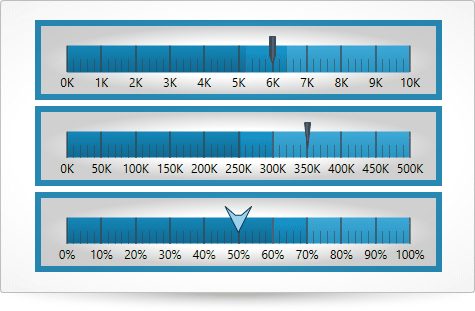 View Sample
Configurable Orientation
Easily switch between horizontal and vertical orientation.>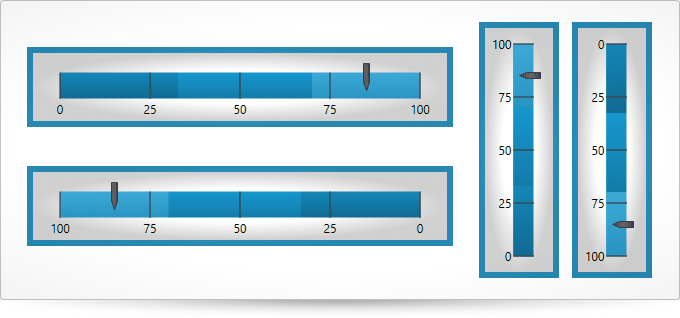 View Sample
Needle Dragging
The built-in needle dragging feature for the Linear Gauge allows the needle to be moved via mouse or touch interactions.

View Sample
Animated Transitions
Create attractive data visualizations with the built-in support for animation. The animation effects occurs on loading the control as well as when the value of any of its properties is changed. 
View Sample