Silverlight Map
Create expressive business intelligence solutions with stunning Silverlight maps that tap your business' geographic and geospatial data with rich functionality and styling.
Map Anything and Everything
Use the Shapefile format to render any geometric shape, including geographic maps, seating charts and floor plans.

View Sample
Geo-Imagery Support
Enable users to deep zoom into satellite, aerial, remote sensing, street map, or other kinds of tiled imagery from external geospatial imagery services, including Bing® Maps, © OpenStreetMap, and CloudMade.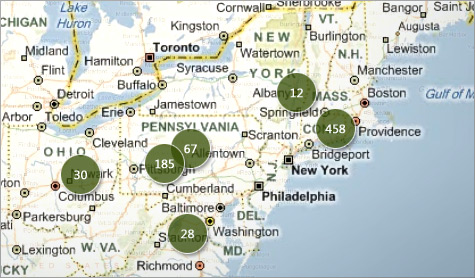 View Sample
Customizable Layout
Design the layout of legends, the navigation pane and all other aspects of map layers and map elements to fit the application you are building.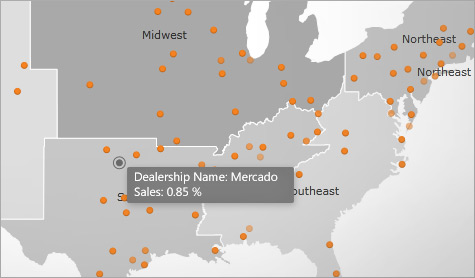 View Sample
SQL Server Geospatial Data
Use the native SQL Server 2008 GEOMETRY and GEOGRAPHY types by loading shape data directly from your database as well as merge additional SQL fields into map shapes through data binding, and merge SQL Server geospatial shapes into a single map control together using layers.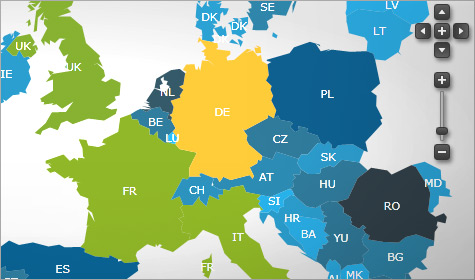 View Sample
Color Model
Comprehensive color model and choropleth shading enable you to fulfill many common mapping scenarios such as mapping US states and counties, color-coding regions by rainfall amount or any other business data and scaling colors to the data value range.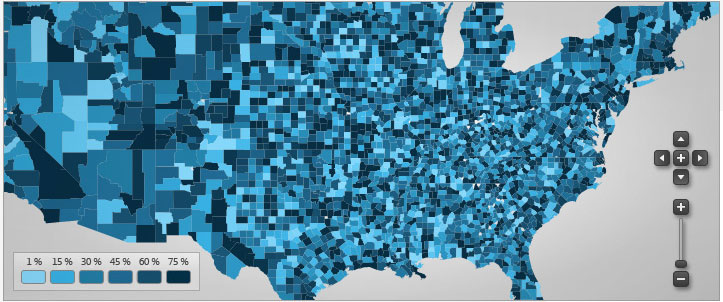 View Sample
Interactive Panning & Zooming
Pan & zoom the map by dragging the navigation pane rectangle, or by "drag panning" with the mouse, or by using the arrow keys.

View Sample