Windows Phone Gauge
Build business scorecard-style applications and rich, informative mobile dashboards with our Gauge control. By presenting users with clear renditions of important key performance indicators (KPI) and business intelligence, your application will empower decision makers to take action. A declarative user interface enables each gauge control to cleanly separate XAML design and development tasks. This allows your designers to use tools such as Microsoft Expression Blend to fashion incredibly rich gauges of every type to astonish your users with engaging new opportunities.
Create Engaging Visuals On-the-Go
Create multi-scale, round or semi-round dials and gauges for your information dashboard with the look and feel of an automotive dashboard or aircraft cockpit. Drag your Gauge needles to new values and update your data, and because it resides on the Windows Phone, the Gauge can repaint itself without having to go to the server for a responsive experience.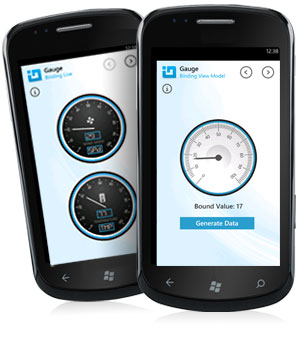 Combine Gauges to Satisfy Your Data Visualization Needs
Like a classic thermometer, you can create a Linear Gauge to read out one or more values over a straight line measurement scale. With a Digital Gauge, you can build 7-segment numeric or 14-segment alphanumeric readouts. Hybrid Gauges support a combination of segmented LED-like displays in a linear gauge, a linear gauge inside of a radial gauge, or any other combination that you may need to meet your data visualization needs.