WPF Gantt
Gantt delivers a Microsoft Project-style user experience and best-in-class support for presenting key schedule management concepts like tasks, sub-tasks, dependencies, deadlines, milestones, and more to your users.
Best User Experience
Deliver a Microsoft Project-style user experience to your users, with the composite tabular/timeline view of their schedule management data that's proven successful for managing time, tasks, and workflow.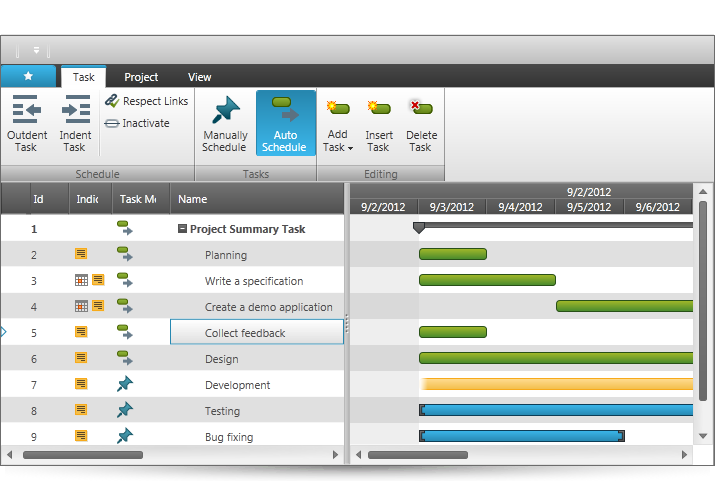 Manage Tasks
Data bind to task and project information, then empower your users to add, edit, and delete tasks interactively within the user interface.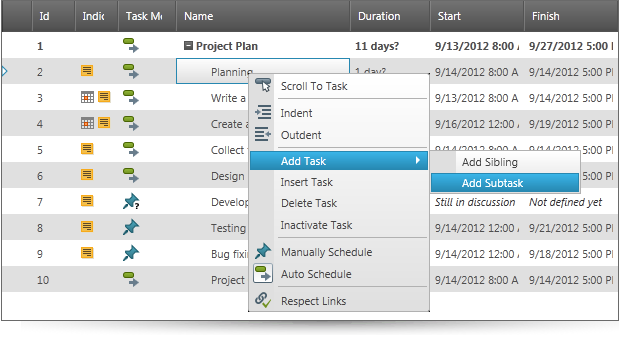 Chart View
Render Gantt charts to visualize complex project schedules with flexible timescales, convenient drag-and-drop updates to tasks, milestones, deadlines, summary tasks, and more.

Grid View
Work interactively by sorting and sifting through task data such as task name, start and finish dates, percent complete, resources, and more, for further analysis.
Constraints
Link tasks with dependencies and enforce constraints within the user interface such as As Soon As/As Late As Possible and others with all tasks automatically updating to comply.