Built with the Enterprise in Mind
ReportPlus enables data discovery & data visualization while ensuring you have the latest information to make real-time, informed decisions. And the Enterprise version includes a full array of features that benefit enterprise users, including advanced data protection, In-House Deployment, and extensibility options. You also get enhanced connectivity options, so that you're able to add new connections like Oracle, Microsoft Dynamics CRM and Salesforce. And a new array of professionally designed themes will give your dashboards and reports a polished look right from the start.
Customization & Branding Options for Your Enterprise or Commercial Application
ReportPlus enables support for customization of the experience to show off your corporate brand, as well as changing the functionality of the application to suit your specific requirements. Enterprises frequently need to adjust the app functionality based on their security rules. These rules can be applied to ReportPlus and may include restrictions over the general functionality or specific app features.
ReportPlus Features
*Some features available only for ReportPlus Enterprise. For a full feature listing, click here.
Security & MAM/MDM Support
On the enterprise level, distribution, security, and management of mobile applications is critical. As such, ReportPlus provides advanced integration with most major mobile device managers (MDM's), including MobileIron. MDM servers and ReportPlus work together on app deployment, authentication/authorization, data leakage policies and data protection. ReportPlus has built in security for data protection, client side certificates, Forms-based authentication, and more.


Do-It-Yourself Dashboards with ReportPlus SDK
Thanks to ReportPlus' Javascript API, you can create your own DIY dashboards using standard HTML, CSS and Javascript. Any HTML page can interface with the ReportPlus application and have access to the data retrieved from any of the supported data sources, and can even signal events back to the application for full interactivity.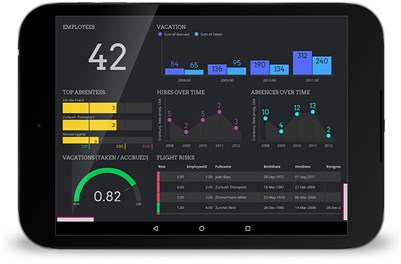 ReportPlus Android Viewer is Now Available
Using an Android device? ReportPlus for Android now enables you to view all your ReportPlus iOS reports natively on your Android device. Just log in with your current ReportPlus iOS subscription details, and you can have the same premier native dashboard viewing experience you enjoy on iOS now on any Android device. Currently, ReportPlus for Android allows you to view only your iOS-created reports, but soon you'll have full dashboard and report-creation access on Android. Additionally, you'll soon be able to access your dashboards and derive business intelligence insights from virtually any device, including your laptop and desktop computers! Stay tuned for more information about the roadmap of your favorite BI tool.

Resources
From walkthrough videos that are easy to follow along with, to detailed blogs and a team of experts that are ready to answer any question you might have; we've collected all the resources you'll need to explore Infragistics' Enterprise Mobility solutions.