Find Enterprise Mobility Partners
Mobility Partner
Infragistics Mobility Partners create flexible, cutting edge solutions for their customers using Infragistics' user experience expertise and enterprise mobility solutions. We strive to provide the right engagement model for each of our partners so that the solution delivered to the customer is seamless from both a technical and financial standpoint.
Looking for a Developer Tool Partner? click here.
enterprise mobility partners in

Gold Partner
Ingram Micro


Irvine

,

California
United States
There's nothing micro about Ingram. Ingram Micro is the world's largest wholesale distributor of computer products. It offers more than 280,000 products (including desktop and notebook PCs, servers, storage devices, CD-ROM drives, monitors, printers,
and software) to 175,000 reseller customers around the globe. The company also provides a wide range of services for its resellers and suppliers, including contract manufacturing and warehousing, customer care, financing, logistics, and enterprise network support services. The Ingram family has more than 70% voting control in the company.
[...]
www.ingrammicro.com
SHI International

Somerset

,

New Jersey
United States
From software and hardware procurement to deployment planning, configuration, data center optimization, IT asset management and cloud computing, SHI offers custom IT solutions for every aspect of your environment.
www.shi.com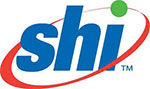 SimplePortals
Randolph

,

Vermont
United States
Let us build your SharePoint Server, or server farm, and keep it up-to-date with our proactive maintenance and support. We also supply an incredible suite of applications and add-ons to quickly get more from SharePoint. After launch, we'll manage your
SharePoint Server and provide our support and troubleshooting. We don't stop there because we know it can be overwhelming and hard to get maximum value. We make using SharePoint as simple as possible, useful for mobile workers, and develop applications with real business value.
[...]
www.simpleportals.com