ReportPlus

Desktop & Mobile
One App at One Low Price for Simplified Dashboard Creation and Viewing
ReportPlus is a cloud-based data visualization service that allows you to visualize the metrics that matter most to your business in one place. Monitor the most important KPI's and know the health of your business with real-time dashboards, create rich interactive reports and access data on the go with ReportPlus native apps for iOS, Windows and *Android.
* Android has viewing capability only
Connect To Your Data
We never store your data. Access and connect directly to data anywhere in real-time, including local Excel spreadsheets, on premise SQL databases and Hadoop Hive, or cloud services such as Salesforce.com, Google Analytics, Dropbox and more. Combine disparate data sources without writing code. Become a data driven pro. See all data sources.
Create And Analyze Anywhere
Start building dashboards from Windows or iOS devices. Visualize your data with a familiar drag and drop interface. Build new calculations from existing data. Choose from over 30 chart types to create stunning visualizations or bring your own through our JavaScript API.
The Beginner's Guide to Effective Business Storytelling with Data Visualizations Download Whitepaper
Access Anytime
Self-service BI with ReportPlus allows you to get answers from your data without help from your IT department. With functionality that works right out of the box, you can set refresh rates and view files with cached data on your device, even when you are not connected. Your dashboard creations are always saved on your device and synced with the cloud, ensuring you and those you share with have a seamless experience.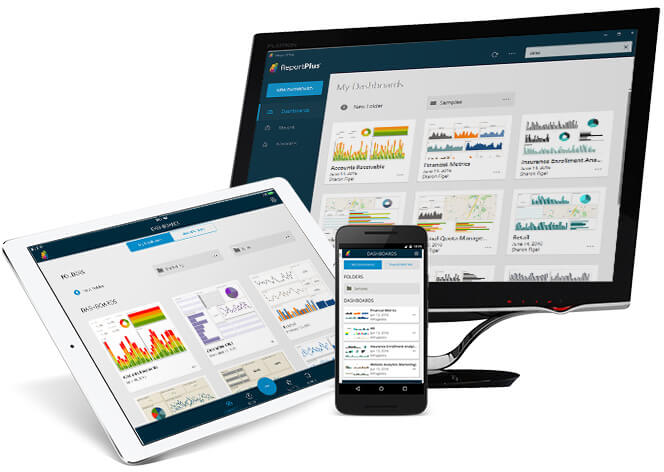 Share With Anyone
Tell powerful stories backed by data. Invite others to collaborate and keep everyone on the same page by sharing key metrics and insights with your team. Export your latest dashboards to PowerPoint, PDF, Word and CSV files, or take a screenshot and add comments and annotations before you share via email or present. Use Airplay functionality to show your dashboards in large room settings.

Delivering Innovation
With your ReportPlus subscription you will have access to our ongoing updates and annual major release. Our goal is to continually provide you with the best value in the industry.
Merge Data Sources
Select disparate data sources and choose common fields or choose two visualizations and merge them to have your data provide new insights. Create dashboards without constraints by choosing any number of data.

Secure Access
Securely get your insights on any device with built-in hardware encryption. Set a passcode on the application level or password at the dashboard level. MDM integration with MobileIron and Citrix enables secure data wipe on mobile devices. ReportPlus Server integrates with Active Directory for single sign on experience and gives you the ability to set roles and permissions.
Simplified Pricing
Enabling your entire team or organization to become data driven has just become easier with an annual $99/year per user ReportPlus subscription for Desktop and Mobile. Volume discounts are available for organizations with 100(+) users. See pricing for our on premise solution or embedding.