Now anyone in your organization can easily create or view dynamic dashboards, explore the data you already have and unearth new opportunities. ReportPlus Server installed in your private cloud or on premise provides a secure and simple deployment option within your network at the most affordable price point in the industry.
Create An Informed Organization
Create dashboards with ReportPlus Desktop or iOS (Mobile) and share them instantly and securely across your business with ReportPlus Server. Embed reports in your line of business applications. Speed up the time it takes to find new opportunities and make critical business decisions. ReportPlus iOS (Mobile) is localized in over 10 languages.
Local Language Support
ReportPlus Mobile for iOS and Android - English, Dutch, French, German, Italian, Japanese, Portuguese, Russian, Simplified Chinese, Spanish, and Traditional Chinese
ReportPlus Desktop for Windows - English and Japanese
ReportPlus Server with Browser Experience - English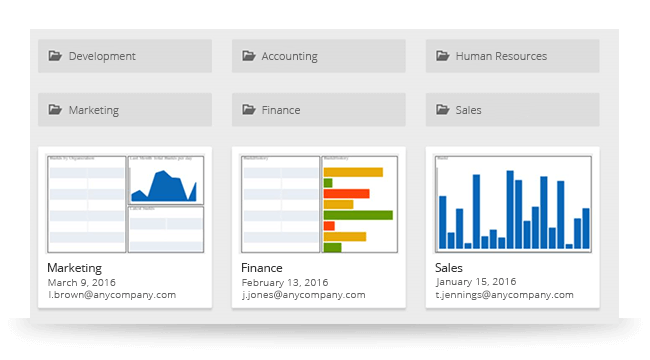 Empower Everyone
With ReportPlus Server, teams can securely create and view dashboards on desktop, browsers, and mobile devices. Self-service BI functionality allows individuals to get answers from their data, set refresh rates, view files with cached data on their device, even when they are not connected. Dashboard creations are always saved on their device and synced with your server, ensuring you and others in your organization have a seamless experience.
IT-Friendly
ReportPlus Server is fast and stress-free to install and maintain. Administrators have the flexibility to change permissions at a user, dashboard or folder level, or view an individual's usage history from the administration screen of the ReportPlus Server application.

Delivering Innovation
With a ReportPlus Server subscription your organization will have access to ongoing updates, enterprise support, and annual releases. Our goal is to continually provide you with the best value in the industry.
Merge Data Sources
Select disparate data sources and choose common fields or choose two visualizations and merge them to have your data provide new insights. Create dashboards without constraints by choosing any number of data sources without a cap.

Secure Access
Securely get your insights on any device with built-in hardware encryption. Set a passcode on the application level or password at the dashboard level. MDM integration with MobileIron and Citrix enables secure data wipe on mobile devices. ReportPlus Server integrates with Active Directory for single sign on experience and gives you the ability to set roles and permissions.
Simplified Pricing
Enabling your entire team or organization to become data driven has just become easier with an annual ReportPlus Server subscription, delivering the most value in the industry with access to desktop, mobile, and web. Prices start at $5,000/year for the Server subscription and $99/year per user. Volume discounts are available for organizations with 100(+) users.