ReportPlus is a cloud-based or on premise data visualization service that allows you to visualize the metrics that matter most to your business in one place. Monitor the most important KPI's and know the health of your business with real-time dashboards, create rich interactive reports and access data on the go with ReportPlus apps for iOS, Windows and *Android, or on the Web.
* Android has viewing capability only
For ISV's, ReportPlus Embedded enables you to add ReportPlus into your desktop, Web and mobile applications so you don't need to build custom solutions for your users. End users don't need a ReportPlus account to view embedded dashboards or reports in your applications.
We never store your data. Access and connect directly to data anywhere in real-time, including local Excel spreadsheets, on premise SQL databases, and Hadoop Hive, or cloud services including; Dropbox, Google Drive, Salesforce, Microsoft Dynamics CRM, Twitter, Facebook, Google Analytics, Flurry, appFigures.

Combine disparate data sources without writing code. Become a data driven pro. For a full list of data sources supported by Report Plus, click here.
ReportPlus Architecture Diagrams
See how ReportPlus is uniquely designed to access your data directly on premise or in the Cloud.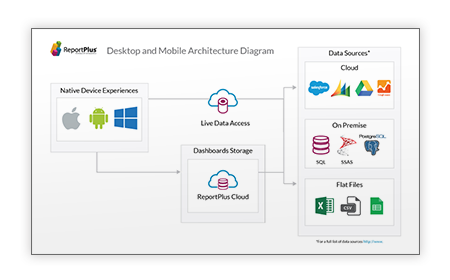 ReportPlus

Desktop & Mobile

View Diagram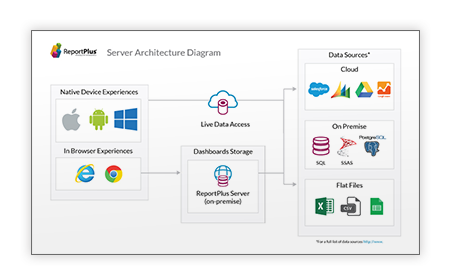 ReportPlus

Server

View Diagram
Choose From Over 30 Visualization Types
Create robust dashboards and quickly style them with preset themes to customize colors and fonts. Easily bring in outside visualizations by using the ReportPlus Java Script API. Make sense of data sets of all sizes, realize trends and clearly inform your decision making process to advance your business.
Click on the solution samples below to find out how ReportPlus can help transform your business to become data driven.