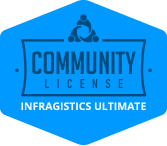 Congratulations, you're a winner!
This certificate entitles you to a free one-year license of Infragistics Ultimate, valued at over $1,900!* Get ready to create desktop, Web, and mobile experiences that matter with the rapid prototyping tools and enterprise-ready UI controls found in Infragistics Ultimate.
To claim your free software:
simply enter your information and promo code in the form and follow the prompts to get coding!
Set Up Your Account
If you already have an Infragistics account, simply provide the email assoicated with that account below. If you do not have an account, we'll ask you to create one to receive your free license.