November Savings!
Infragistics Ultimate
$1,995
Now $1,395
Product includes standard support for up to five seats. Offer expires November 15, 2018.
Get it now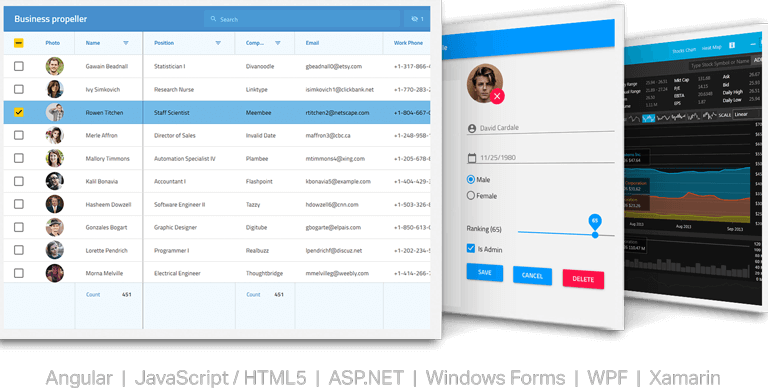 6 Reasons to Choose Infragistics Ultimate
Get the tools that drive your productivity in the platforms that matter the most: Angular, JavaScript/HTML5, ASP.NET, Windows Forms, WPF, and Xamarin. We've got what you need to build the beautiful, high-performance & scalable apps that your customers expect.
And don't think we forgot about how you work with your design team! With Indigo.Design Enterprise, we help bridge the gap between design and development with a unified platform for visual design, UX prototyping, code generation, and app development.
Here's what Infragistics Ultimate provides you
When you opt for Ultimate, visions quickly become applications! Here a quick look at what's included:
Fastest Grids and Charts

Need apps that can handle millions of data points at lighting fast speeds? Our grids and charts are the fastest on the market! 

50+ Material-Based Native UI Components for Angular 

Built on the Angular framework, Ignite UI for Angular is stocked with the tools required to deliver responsive, modern web, and mobile experiences across any device.

Best of Breed UI for Financial Services

Best-in-class performance for real-time data in Grids and Charts for WPF & Angular, including OpenFin OS support for capital market applications.

Sketch Designs to Runnable Code in 1-Click

With 50+ UI Sketch components that map directly to Angular, generate high-quality HTML, CSS, and Angular code from your designs with no compromise.

Visual Studio Extensions

Use our WPF and Xamarin control configurators to visually compose your Grid and Chart controls, including full command over styling and data binding.

Excel and Spreadsheet Solutions for .NET and JavaScript

Enhance your Data Grid with 300+ supported functions using the Infragistics Excel engine. Incorporate Spreadsheet controls in your next JavaScript, Windows Forms, or WPF application to provide a complete Microsoft Excel experience.
We're here to help you get the job done right. See what you can do with Infragistics Ultimate. Normally priced at $1,995, you can now get our full suite of coding platforms PLUS Indigo.Design Enterprise and 24 x 5 support for only $1,395. Offer expires November 15, 2018.