Free License
Indigo Studio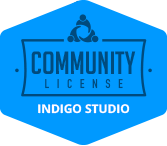 Congratulations, ISA Conference Attendee!
You've won a free license for Indigo Studio, our UX prototyping tool. With Indigo Studio, you're able to prototype UX flows for phone, tablet, desktop, and responsive web, all without writing a single line of code.
To claim your free software:
simply enter your information and promo code in the form and follow the prompts to get started!
Set Up Your Account
If you already have an Infragistics account, simply provide the email assoicated with that account below. If you do not have an account, we'll ask you to create one to receive your free license.