See What's New with our Latest Features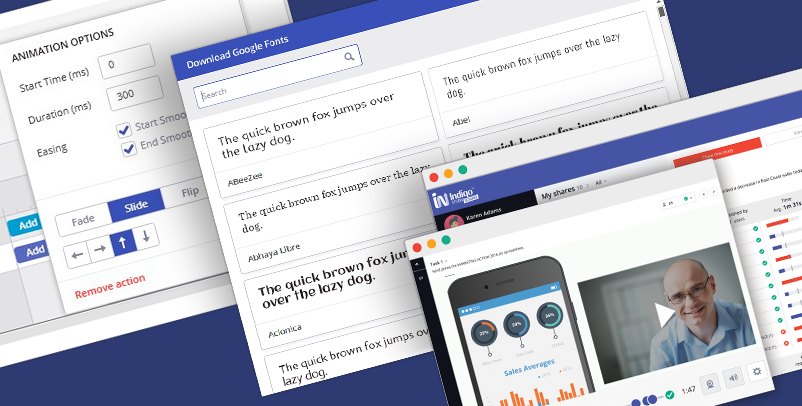 June 21, 2017
What's New for Indigo Studio in Ultimate 17.1
What's New for Indigo Studio in Ultimate 17.1
Whether you are designing for a user story or micro-interactions, prototypes are a great way to communicate how your idea will work, before yo...
Get a Free Copy of Eric Reiss' Usable Usability
Usability has become a business imperative: The more difficult a product or service is to use, the less likely a customer will buy it (or will buy...
Group Workspaces for Collaboration
With group workspaces, you can create a private design community, where other invited members can also publish designs. It's a shared space on indi...
Reviewing Usability Study Results
One main purpose for conducting a usability study is to find out how well your design meets users' expectations, and get some targeted usage...
Set-up Remote Unmoderated Usability Studies
When Indigo Studio's product vision was first drafted, it was always intended to be a prototyping solution and not just prototyping tool. Our ult...
Importing Custom UI Libraries from indigodesigned.com
Version 5 (update 1) includes the following: Download and import UI libraries from indigodesigned.com New "replace existing share" flow Sign in to...
Docking Properties Panel and Revisiting UI Guides
One of our design goals is to provide a distraction-free design time experience. As part of this, we try to reveal functionality depending on where...
Adding Comments to Indigo Studio Prototypes
Today we are announcing the ability to add comments to prototypes! Since everyone is pretty familiar with adding comments, we don't need to go too...
Using Collections to Organize & Share Your UX Prototypes
Long text documents and prototypes often suffer from a common problem — the more you add to it, the more unwieldy it becomes. For documents, you c...