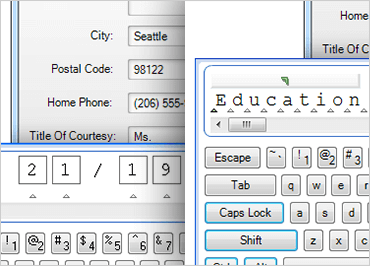 Windows Forms Ink Provider
Bring the expressive nature of Ink to your applications. Take advantage of in-place editing, masked editing, and more on the Tablet PC™ platform with our Ink provider and advanced PenInputPanel™.
Download Windows Forms Samples
---
Advanced Input Panel
Our custom input panel goes beyond what the tablet PC offers, including full validation rules using masked editors.

---
In-Place Editing
The input panel positions itself directly on the control that will be edited.

---
Gesture Support
A dedicated gesture panel serves as an "inkable" area that recognizes 14 common editing gestures such as right and left strokes for entering a space or backspacing.