Webinar: Hands-on With Ultimate UI for WPF
Event Description
Please note: This webinar will begin on April 23rd at 12:00 PM IST 


Join us and get hands-on experience with the newest UI controls to create engaging modern and Microsoft Office-inspired apps for desktop and touch devices.  With lightning-fast grids and charts, dynamic data visualizations, and versatile controls, see how quickly you can modernize your desktop applications.
You will get an inside look at:
Environment set-up for the Ultimate UI for WPF
Newest features and controls
Exploring WPF components
This hands-on lab will be your chance to get your questions answered by our experts, and learn how to use fast and powerful UI controls to enhance your high-performance apps.


 
About the presenter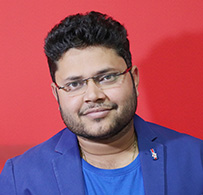 Nitin Sharma has over 10 years of vast development experience on different technologies, is awarded by Microsoft as an MVP, as well as a former C# Corner MVP. Nitin is a blogger and author at Tutorials Link.