Webinar: See What's New in Angular 9.0.0
Event Description
Please note: This webinar will begin on March 26th at 11:00 AM IST 

Angular 9 is here, and we have combined the dependencies update to Angular 9 with a major feature release. During the last few months we have focused on a few key things — working with data, customization and theming. You will see how easy it is to work with data, visualize it with one click and yet keep everything customizable and attractive, just by using Ignite UI. 
You will get an inside look at:
How to Integrate Ignite UI CLI in Angular Apps
Controls Toolbox for Visual Studio Code
Benefits of Ignite UI for Angular
Hands-On Demos with Angular and Ignite UI
Don't miss a chance to get the first-look at our latest Angular release and how we are working keep you up to date with the newest technology in the modern web.
About the presenter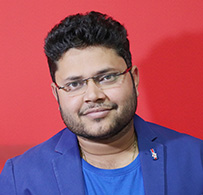 Nitin Sharma has over 10 years of vast development experience on different technologies, is awarded by Microsoft as an MVP, as well as a former C# Corner MVP. Nitin is a blogger and author at Tutorials Link.