With more than 40 chart types - Android apps have never looked so good
Android
Controls

 are included in your purchase of Ultimate. 

Interactive Data Visualizations & Analytics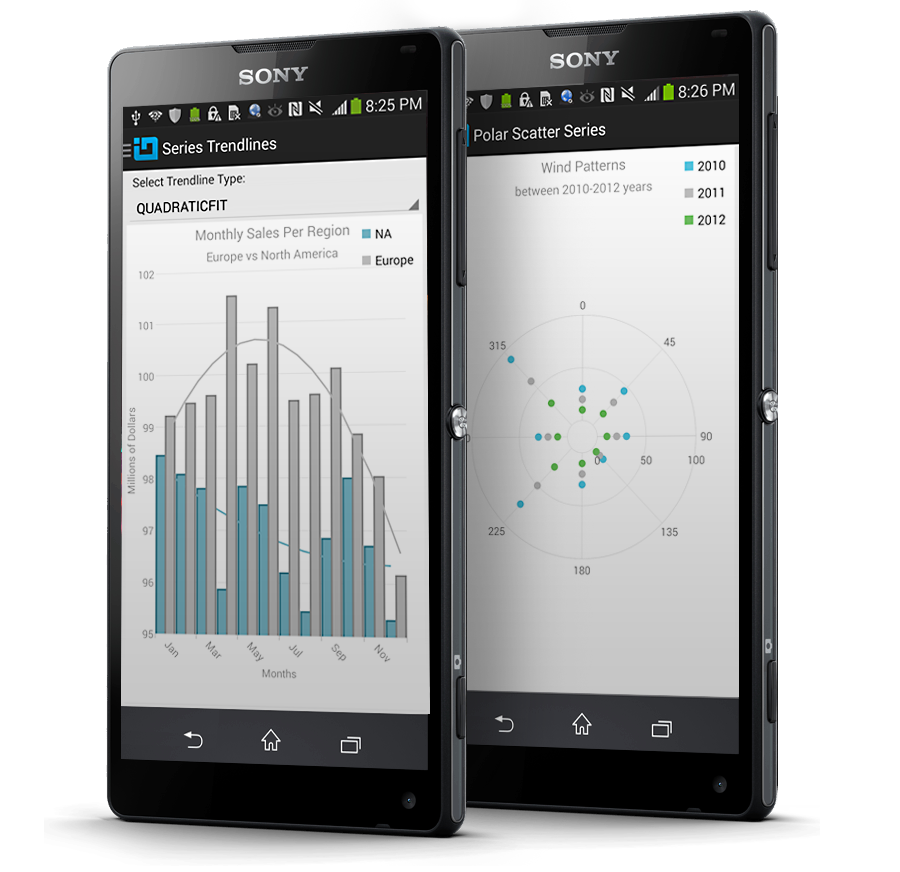 Stunning Charts. Incredible Performance.
Based on the award winning Data Chart control, our brand new 2014 version is optimized for Android. This release displays charts with hundreds of thousands of data points with real-time motion framework animated updates.
Simple Implementation & Easy Navigation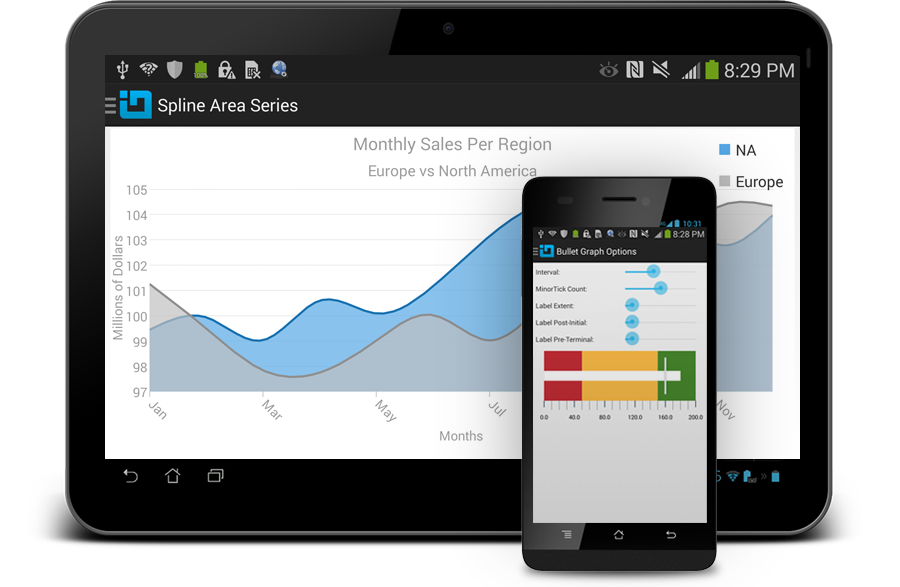 Amazing Experiences
The chart offers a simple, modular API designed specifically to allow easy access to the chart's functionality. It offers built-in, natural multi-touch gestures for panning and zooming to drill down to specific data points or zoom out to see the big picture of your data.
Your Data. Your Way.
So Many Choices
Your apps will benefit from the Chart's modularity. Multiple series are supported to create composite charts for better data comparisons. Choose from Line, Area, Bar, Column, Point, Spline, Spline Area, Step Area, Step Line, Range Area, Range Spline Area, Range Column, Range Bar, Waterfall, Scatter, Pie, Polar, Radial, Candlestick, OHLC, Radial Gauge and Linear Gauge chart types. Use any of the charts 10 markers, 13 trend lines, 34 financial indicators and 2 financial overlays. All with built in animations, tooltips, cross-hairs and touch interactions.
Get Help, Anytime You Need It
We're Here for You. Technical support is important. Especially when you get stuck. And we offer the very best support on the market — and it starts when you download the trial. We provide you with BOTH case-level and forum based support 24 hours a day, 5 days a week.

Sometimes you need experts to help you get your project finished. With D3 services from Infragistics you have industry experts in design and development. Whether you need help migrating your legacy application or need some coaching on the user interface for your next mobile app, we've got the experts to help your team build something amazing.
You want to know what it takes to design experiences that propel your product to the next level? You want to learn and apply best practices in UX design? Let our UX experts show you how to do it. Or maybe you need to tackle new platforms and powerful controls by learning from the people that develop applications across industries. We have the expertise in Infragistics controls on every platform, and can bring your team up to speed so they can ensure quick success.