HTML5 Hybrid Mobile, Desktop & Tablet Experiences
Build It Once and Run It Everywhere
One code base. So many platforms. Create a single solution that crosses platforms and devices with an integrated project. Need one app that looks native to iPad, iPhone, Android phones and tablets, Windows Phone, the Surface and also looks great on the desktop? That's no problem with Ignite UI - built into Infragistics Ultimate.
Build native iOS apps today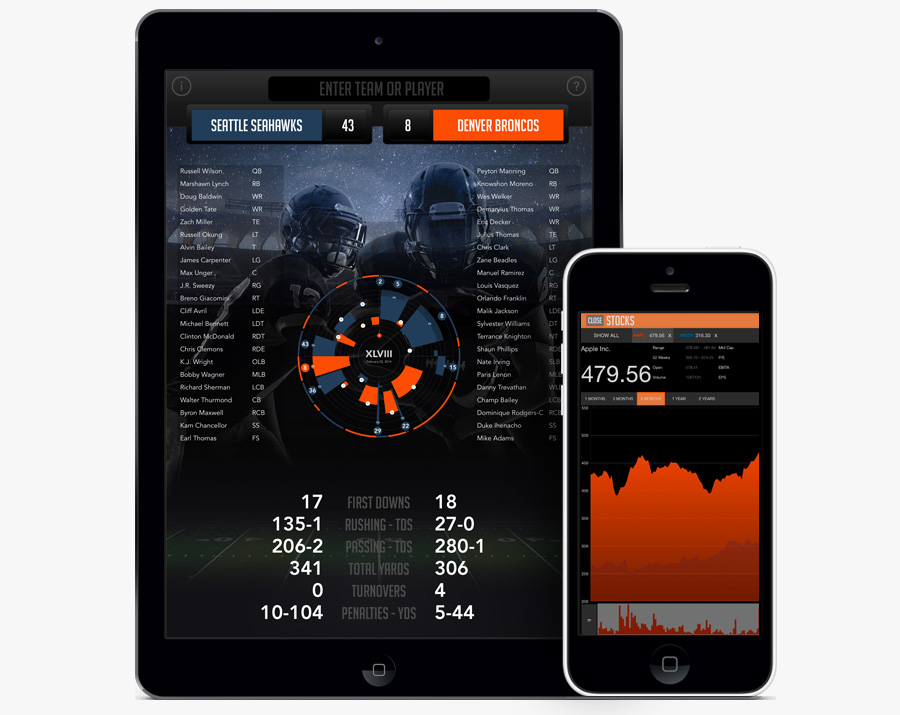 The Fastest iOS Apps
Introducing your solution for a world gone BYOD (Bring Your Own Device). Our newest toolset delivers the core controls you need to create high performance, highly visual, totally native iPad and iPhone applications. Built with performance and style in mind, Ultimate offers an advanced Data Grid and a powerful set of versatile charts perfect for mobile applications in the consumer marketplace or the enterprise.  Check out the free Sample Browser in the Apple App Store! 
Shapes & Connections for any Diagram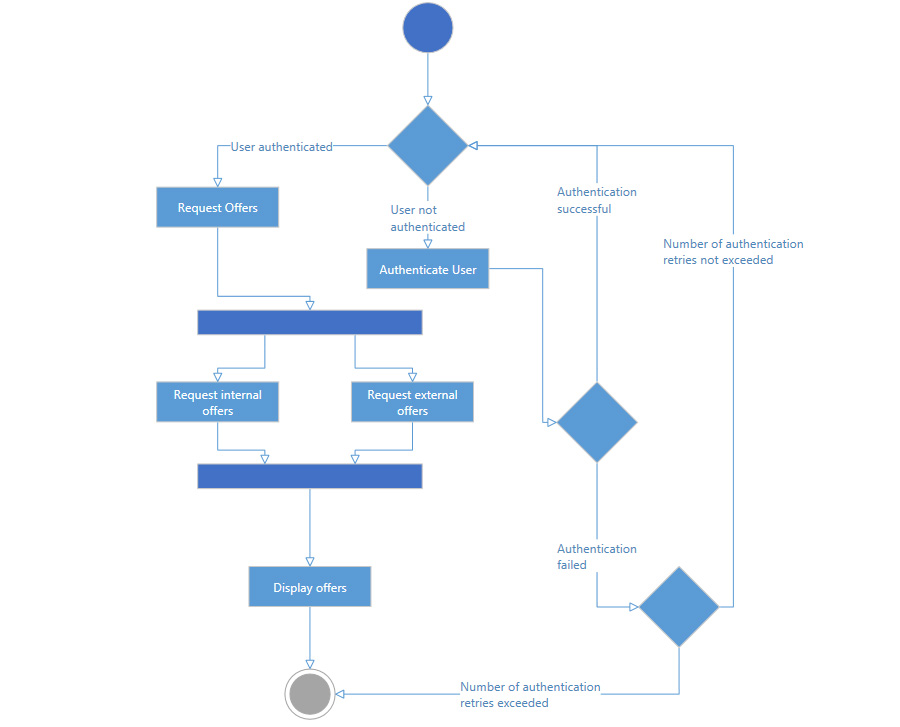 With 10 predefined diagram shapes such as Circle, Square, Rhombus, and Triangle and unlimited custom shapes, any diagram you can imagine is possible. Making connections between shapes is as easy as dragging your mouse. Simply click a connection point of a shape and then, while holding down the mouse button, drag a connection to another shape. It's that easy. Choose from 28 different start and end cap types such as Arrow, Circle, Diamond, and more. Choose from 7 different line styles including dash, dot, dash-dot and more.
Create Stunning Apps For Any Platform.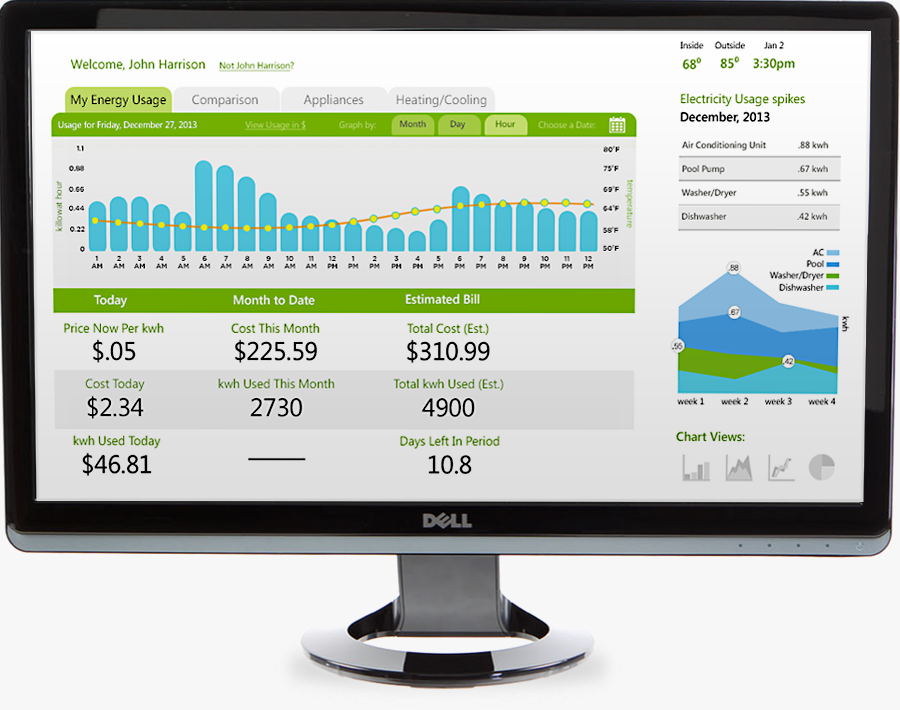 Infragistics Ultimate makes it easy to build stunning apps with incredible performance. Start showing your customers beautiful, interactive prototypes right from the beginning. Take those prototypes forward and integrate amazing controls including animated data visualization to take your app to the next level. With all of the functionality for building Web, Windows and mobile apps included, you have all you need and with built in wizards, templates and step-by-step videos we'll ensure that building your first app is simple.  We have tested and tuned against the industry and in millions of real world applications including mission critical Fortune 500 apps to make sure your apps are fast.
Design Stunning Apps
Prototyping for Your Web, Desktop, and Mobile Apps with Indigo Studio - the fastest User Interface prototyping and interaction design tool - helps you quickly explore and create animated prototypes of your apps. With Indigo Studio you can create prototypes for your desktop, web, and mobile apps. And the automatic code-generator gives you a kick-start for your applications.
Amazing Data Visualizations
Create amazing dashboards for your customers with over 50 types of charts for any line of business or financial scenarios.  Drill-down, zoom-into and even animate your data over time to deliver rich, immersive experiences. Take advantage of incredible geospatial mapping functionality to connect your application with a world view, including multi-layer support and custom data layers with break-neck performance.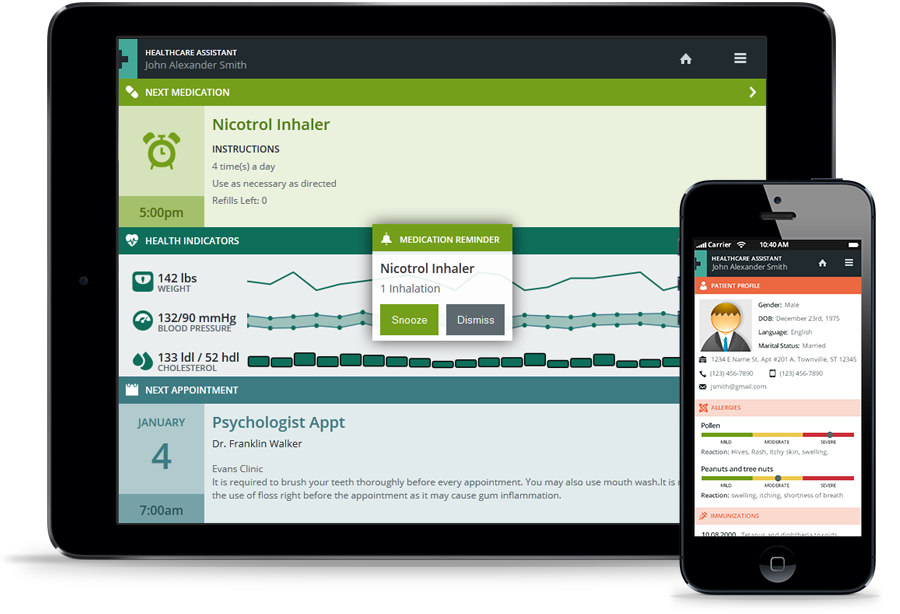 Professional Designer in the Box
Reuse existing pre-built sample applications designed by industry experts to ensure that your application is well designed and looks great. 
Easy to Get Started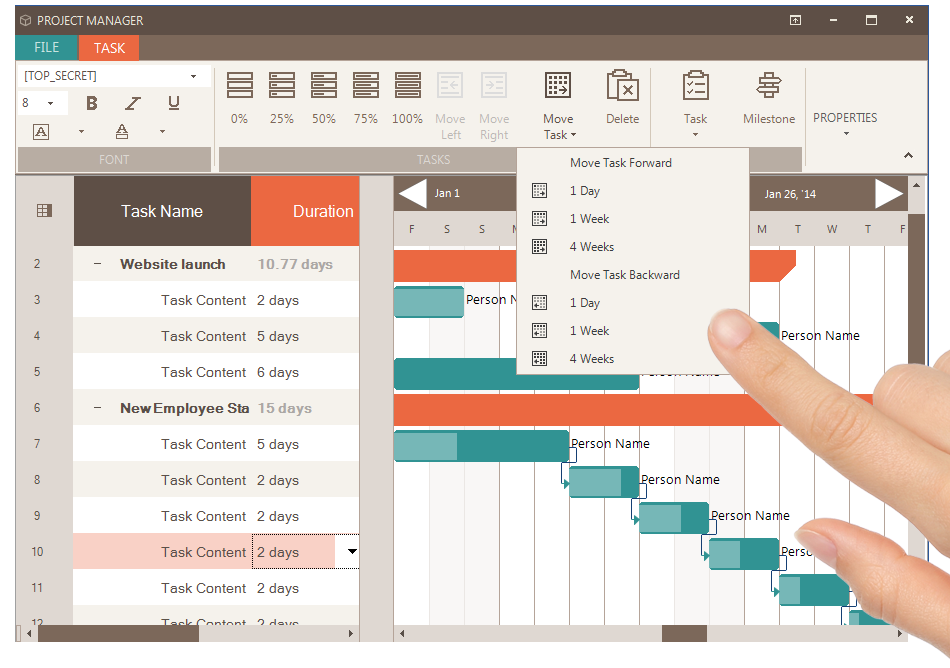 All the Tools You Need.
With Ultimate, you have all the tools for building Windows apps (Windows Forms, WPF and Windows 8), Web apps (ASP.NET, HTML 5 & JQuery, Silverlight) and mobile apps (native and web).
Your Developer Coach. Included.
Built into our products are a complete collection of application and control wizards to help you quickly get up and running. And with our reusable sample applications and our step-by-step video series, we'll make sure you'll get going fast.
Multi-Platform? No problem.
The Infragistics approach to our user interface controls is to create consistency across our supported platforms. So if you're familiar with our Windows Forms controls, it'll be easy to use our ASP.NET web controls.
Easy For You. Easy For Your Customers.
With built-in integration with Microsoft Office, it's simple to build applications that work with Microsoft Word and Excel to ensure that your apps are easy for your customers to use too.

Turbo-Charged Performance
Fortune 500 Tested.
With mission critical applications at some of the biggest companies in the world including Boeing, ESPN, Exxon, INTEL, Intuit and Bank of America, you are in good company.

Performance Tuned Controls, Industry Benchmarked.
Across all platforms, Infragistics is the #1 when it comes to performance.  From the time it takes to render the first row of data on the screen in a grid, to the performance of scrolling, paging & sorting, our grids are optimized to handle the most demanding real-time and high-volume scenarios.  Equally as powerful is our charting engine, which can plot millions of data points on a screen in mere milliseconds.  To learn more about how we care about the performance of your apps, check out our performance whitepaper.
Getting Started is a Snap
Take advantage of our YouTube channel where you can view a range of videos from introductory guides to advanced tutorials. Be sure to also have a look at our end-to-end sample applications that ship in the box so you can quickly get up to speed on your initial apps.
Enterprise Class Testing
Automated Testing - Gain better coverage and a higher quality product through test automation. With our testing tools, you can reduce the need for and cost of manual testing with an automated testing process that requires fewer personnel. Using these tools, you can effectively institute data-driven testing of the apps you build with our Windows Forms controls. Whether you are using HP's Quick Test Professional for Windows Forms or IBM's Rational Functional Tester for Windows Forms or HP's Quick Test Professional for WPF or even CodedUI for Microsoft Test Manager you can lean on our testing tools to automate your testing.
Get Help, Anytime You Need It
We're Here for You. Technical support is important. Especially when you get stuck. And we offer the very best support on the market — and it starts when you download the trial. We provide you with BOTH case-level and forum based support 24 hours a day, 5 days a week.

Sometimes you need experts to help you get your project finished. With D3 services from Infragistics you have industry experts in design and development. Whether you need help migrating your legacy application or need some coaching on the user interface for your next mobile app, we've got the experts to help your team build something amazing.
You want to know what it takes to design experiences that propel your product to the next level? You want to learn and apply best practices in UX design? Let our UX experts show you how to do it. Or maybe you need to tackle new platforms and powerful controls by learning from the people that develop applications across industries. We have the expertise in Infragistics controls on every platform, and can bring your team up to speed so they can ensure quick success.