Create hybrid mobile apps that look native on every mobile device and the desktop with Ignite UI
View IgniteUI jQuery/HTML5 Controls
Get Your 30 Day Free Trial of Ignite UI jQuery Controls.

Inspiration is Just a Click Away 
Starter Kits & Sample Apps to Kickstart your Development
Need to get a finished application mobilized in record time? No problem. We ship a collection of professionally designed Starter Kits that you can open right inside Visual Studio, they are all purpose-built for you to reuse in your next application along with beautiful, professional themes that will make your apps stand out to your users.
Killer Performance with the World's Fastest HTML5 Grid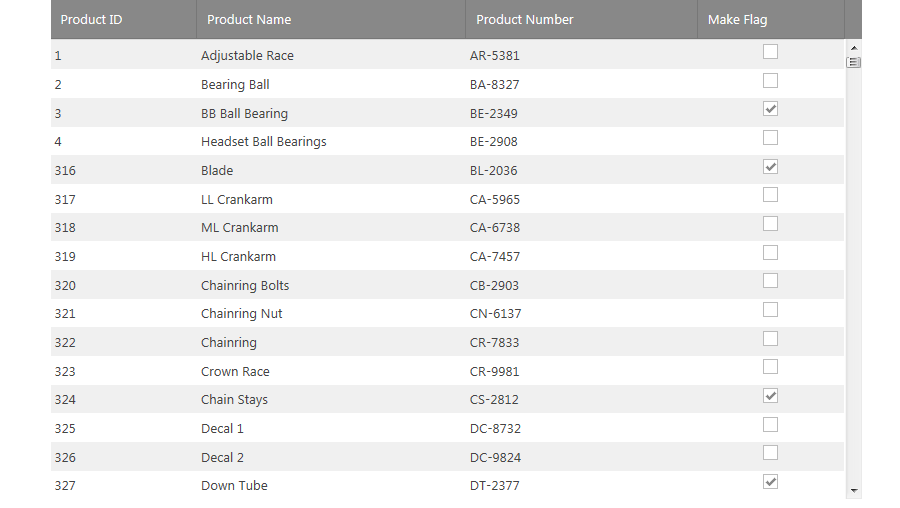 Stunning Apps that Perform
Harness power and speed with our Grid – the fastest you'll find anywhere, as proven by rigorous performance tests. The Grid renders only what is visible to the user, making the overall grid footprint smaller on the client and reducing load time for application data. Along with support for response web design and adaptive CSS, your apps will look & behave as expected on any desktop or mobile device.
HTML5 Hybrid Mobile, Desktop & Tablet Experiences
Build It Once and Run It Everywhere
One code base. So many platforms. Create a single solution that crosses platforms and devices with an integrated project. Need one app that looks native to iPad, iPhone, Android phones and tablets, Windows Phone, the Surface and also looks great on the desktop? That's no problem with Ignite UI.
Application Samples
Your Data. No Problem.
Widest Availability of Data
Build applications that connect with the broadest range of clients by linking to: oData, WCF, WebAPI (included in Visual Studio 2012 / 2013 and APS.NET MVC 4 / 5), RESTful Domain Data Sources, JSON, XML (with and without namespaces), local arrays, and even pre-existing static HTML tables. We do the work for you when it comes to binding data, no client side parsing or complex data manipulation – it's all built in to Ignite UI – code free.
Design Pages Like Never Before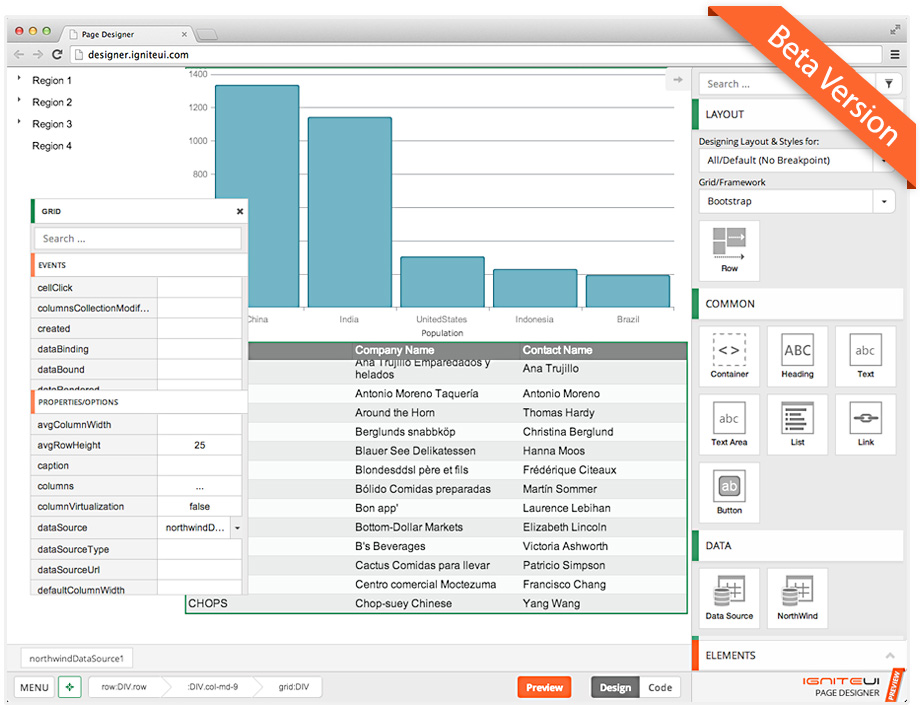 BETA: WYSIWYG Design in HTML5
One of the biggest barriers to getting started on your first HTML5 project is the lack of design time support to do page layout, set properties, add events. With the Ignite UI Page Designer, you have the tools you need to drag & drop your way to a simple page or a full-blown SPA. All in the browser! Test the Beta Now!
Get Help, Anytime You Need It
We're Here for You. Technical support is important. Especially when you get stuck. And we offer the very best support on the market — and it starts when you download the trial. We provide you with BOTH case-level and forum based support 24 hours a day, 5 days a week.

Sometimes you need experts to help you get your project finished. With D3 services from Infragistics you have industry experts in design and development. Whether you need help migrating your legacy application or need some coaching on the user interface for your next mobile app, we've got the experts to help your team build something amazing.
You want to know what it takes to design experiences that propel your product to the next level? You want to learn and apply best practices in UX design? Let our UX experts show you how to do it. Or maybe you need to tackle new platforms and powerful controls by learning from the people that develop applications across industries. We have the expertise in Infragistics controls on every platform, and can bring your team up to speed so they can ensure quick success.