The Brand New MobileAdvantage Suite
These days, it's likely that your end users are looking to access their critical business intelligence on different, and possibly even multiple mobile platforms and devices. If you want to keep your competitive edge, your applications will need to reach all of them. That's where MobileAdvantage comes in. We've assembled the absolute best collection of controls and components for mobile application development that delivers fantastic user experiences across iPad, iPhone, Android, and Windows Phone devices.
Here's What's Inside the MobileAdvantage 12.2
Your All-In-One Answer for Revolutionary Apps on Any Mobile Device
The only suite of its kind, MobileAdvantage offers full-featured controls and components for amazing mobile application development in HTML5/jQuery, native iOS, Android, and Windows Phone. With four distinct toolsets, including the respective Ignite UI (formerly NetAdvantage for jQuery), NUCliOS, Iguana UI Community Pack, and NetAdvantage for Windows Phone toolsets, only MobileAdvantage gives you a full range of high performance mobile controls and data visualization in one complete package.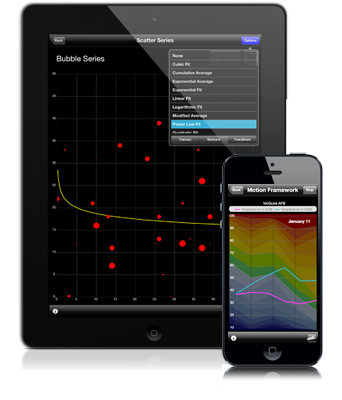 Incredible iOS Controls, Gone Native
Develop totally native iPad and iPhone applications with the brand new, one-of-a-kind iOS toolset - NUCLiOS. Build high performance, highly visual iPad and iPhone applications with native Objective C controls. The iOS Chart controls include 25 different chart types with customization, legends, and support for the Motion Framework; while the iOS Grid control handles massive volumes of data and offers styling and templating capabilities, data binding, and common features like grouping and filtering.
Maximum Mobile BI, Optimized Mobile UI
Deliver business intelligence so decision makers can keep better tabs on their KPIs and actionable metrics wherever they are. Whether it's full-featured HTML5 Charts, thematic geospatial Maps and a Motion Framework that animates data over time for iOS and Android devices, or Bullet Graphs, Gauges or Treemaps for Windows Phone - your options are limitless. And nobody offers more jQuery Mobile controls than Ignite UI. Every Touch friendly controls is optimized for mobile devices and supports the widest range of gestures - like flicking, pinching, panning and zooming – making it easy to interact with your data on the go.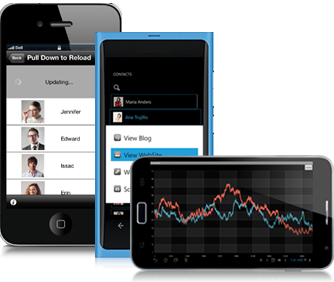 Jaw-Dropping Performance
Harness the power of the world's best performing Charts and Grids. Our controls are second to none when it comes to delivering performance, speed, and reliability, and we can prove it. Check out our performance whitepapers to see how our jQuery Grid, and Windows Phone Charting solution (built using the same algorithm as our Silverlight and WPF controls) dominate the competition.
Resources Beyond What You'll Find in the Box
Get a rapid response and immediate support when you need it, 24 hours a day/5days a week – via phone, email, or by chat. When you need to brainstorm, join our community of over 850,000 developers from the most popular software companies to the most data-demanding enterprises. You can also tap into our sample code, videos, and documentation to keep your project on - or ahead of - target.
Explore the Tools and Platforms Included in MobileAdvantage
Need Help?
Go to our support page to find more information, as it pertains to our .NET Products, located in our online documentation, our community forums and our WWW site. This resource is provided to help you find the answers you need as quickly as possible.