ReportPlus
ReportPlusTM is a dashboard and reporting tool for your mobile iOS devices that enables you to connect to any data source directly and securely.
With ReportPlus' intuitive UI, you can tap and drag your way to build visualizations of your key business metrics – no assistance from IT necessary or any server side software required. Remote access to data has never been more readily available directly on the iPhone, iPad, and iPod Touch - giving you the power to glean the insight from your data and make informed decisions at any time.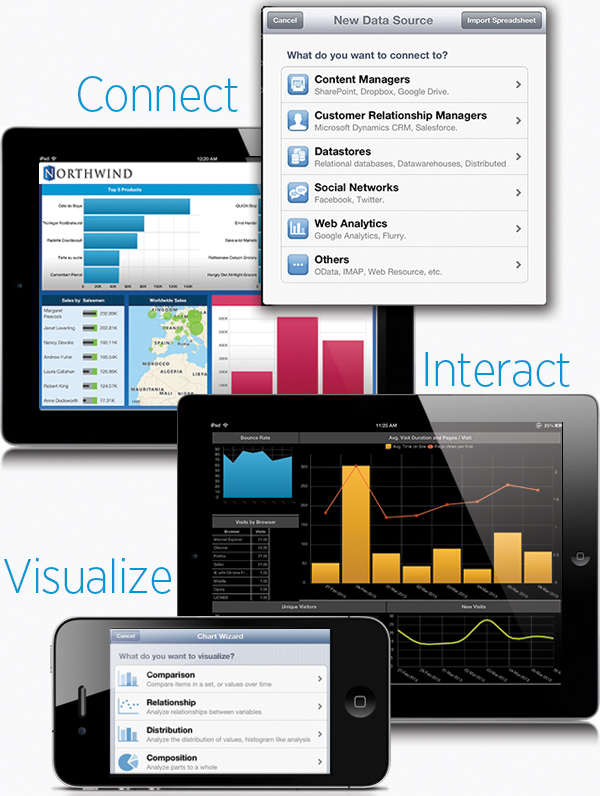 ReportPlus' easy to use dialogs let you connect to any server-side resource that you would normally access via domain credentials or username/password authentication. This includes Microsoft Excel, SharePoint, Dynamics CRM, Salesforce, Analysis Services, SQL Servers, Reporting Services, OData sources, and dozens more.
Once connected, you can browse datasets and interactively create rich dashboards with Charts, Trend Lines, Filters, Conditional Formatting and even automatic geo-coded Maps. Evoke the information you need to be effective on the road, on a plane, with a client – wherever you find yourself working. Unlike other mobile business intelligence tools, ReportPlus allows you to assemble reports and dashboards remotely… not just access pre-existing files.
ReportPlus outputs vibrant data visualizations, enabling you to slice and dice data in a multitude of ways simultaneously.
Through the use of pivot tables and data filters, ReportPlus supports interactive dashboards. Sweep your finger over the touch display to change the colors in grids and charts, or highlight key information in tables. Make ReportPlus dashboards your own by adding logos, images, and corporate branding. With ReportPlus, you're in control of how your data is presented, giving professional polish to reports and executive decision-making and can make executive decisions on-the-fly.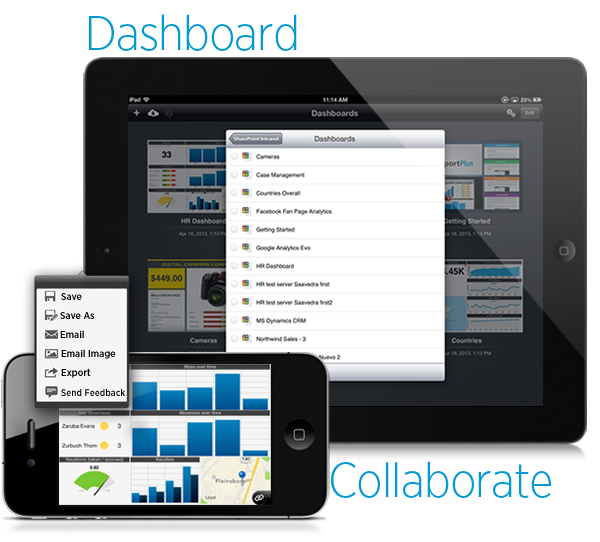 We designed ReportPlus with sharing in mind. Share dashboards and reports with your colleagues via a variety of formats, including email and PowerPoint.
In an increasingly mobile world, ReportPlus maximizes your ability to access the information to make smart business decisions, wherever you are. ReportPlus is available for demo or purchase in the App store.