Windows Phone Bullet Graph
Deliver a simple and concise view of key performance indicators (KPIs) for your Windows Phone dashboards. This "compact-size," data visualization-like control enables you to improve on your "everyday" bar graphs.
Deliver a Simple and Concise View of your Business Intelligence
Improve your Windows Phone dashboards and display progress towards goals with a clear indication of good, better and best ranges. Allow multiple measurements to be easily compared. Take advantage of the Bullet Graph's ability to display qualitative ranges and multiple metrics. You can enhance its look and feel with visually impressive animations and templates, style its look and feel, or even data bind it to a value.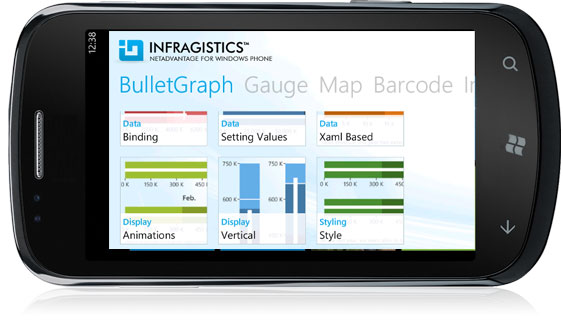 Next Generation Dashboards in No Time
Compact in size, present meaningful intelligence in very little space. Track one or more measures towards your goals with our crossbar target feature. Control tick mark frequency and show the percentage or numeric labels with a custom format string. You can even orient your Bullet Graphs horizontally and vertically!