Bring together the best of the PC and Tablet with
Infragistics Windows 8 controls
View the Windows 8 controls
Get Windows 8

 Controls

 as a Part of Your 30-Day Free Trial of Infragistics Ultimate.
Build High Performance Business and Engaging
Consumer Applications in HTML or XAML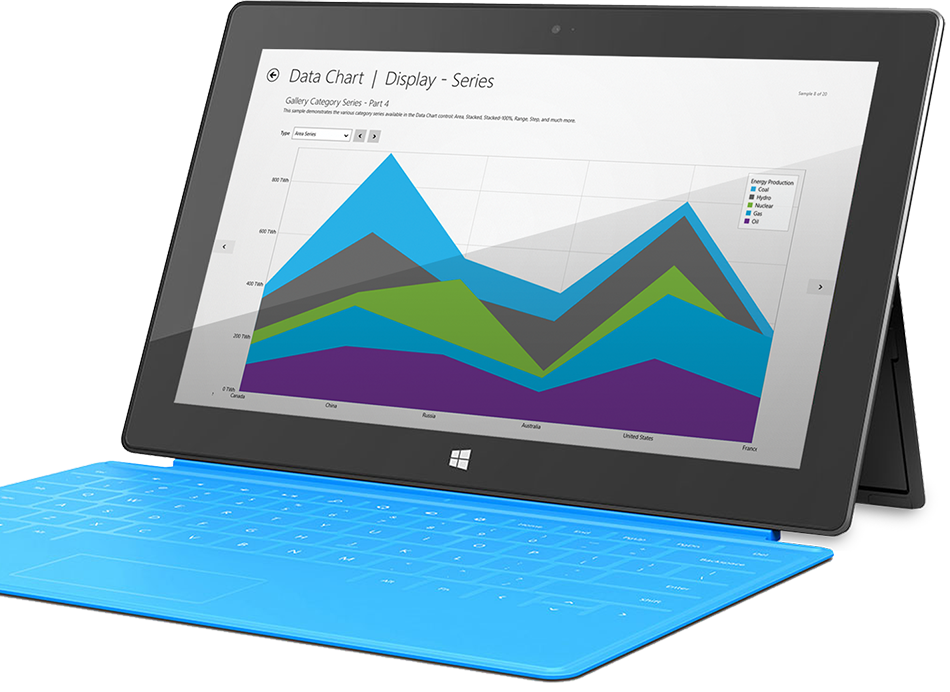 Like Windows 8, Infragistics brings together the best of the PC and tablet in this suite. Impress and innovate with premium controls for data visualization. No matter what the platform or category, apps created with our Windows 8 controls will be bold, high performance and drive revenue through the Windows Store.

Browse Samples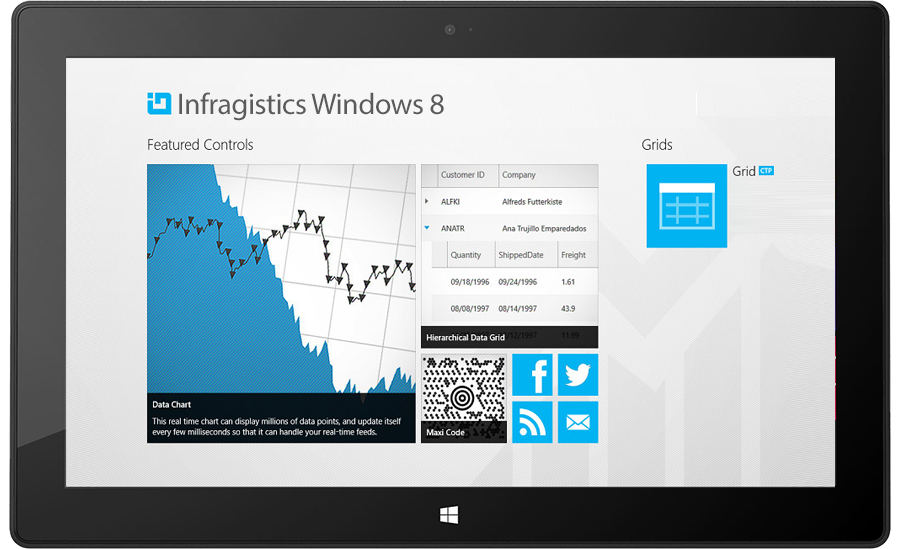 Check out all of the features and functionality that are part of Infragistics Windows 8 controls. You can download the XAML or HTML Sample Browser from the Windows Store directly to your Windows 8 powered device.
Fast & Fluid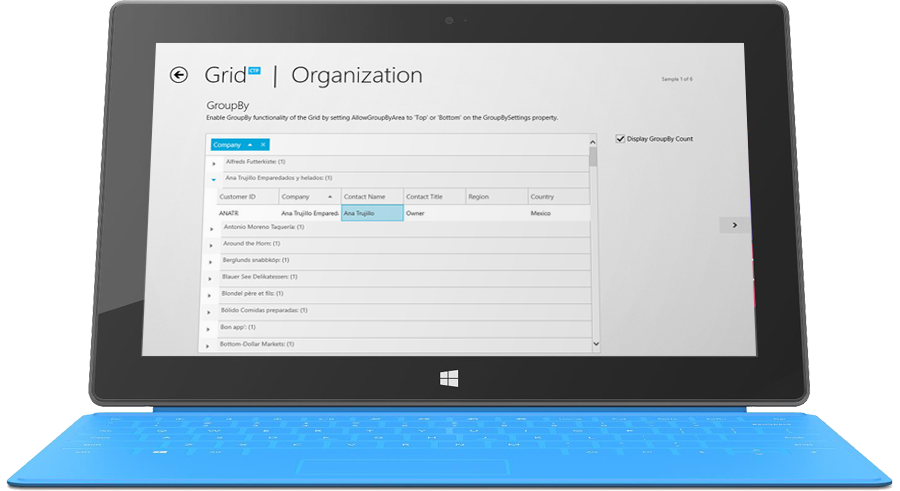 The Fastest Data Grid
Maximize your apps with a Grid control designed for stylability and high performance. Data and UI virtualization make this Grid lightweight and extremely fast when handling large amounts of data. This control allows you to display your data in the style and matter that best fits your needs. Drill down, edit, delete, select, sort group and filter rows using your mouse, keyboard or touch gestures.
Innovative Charting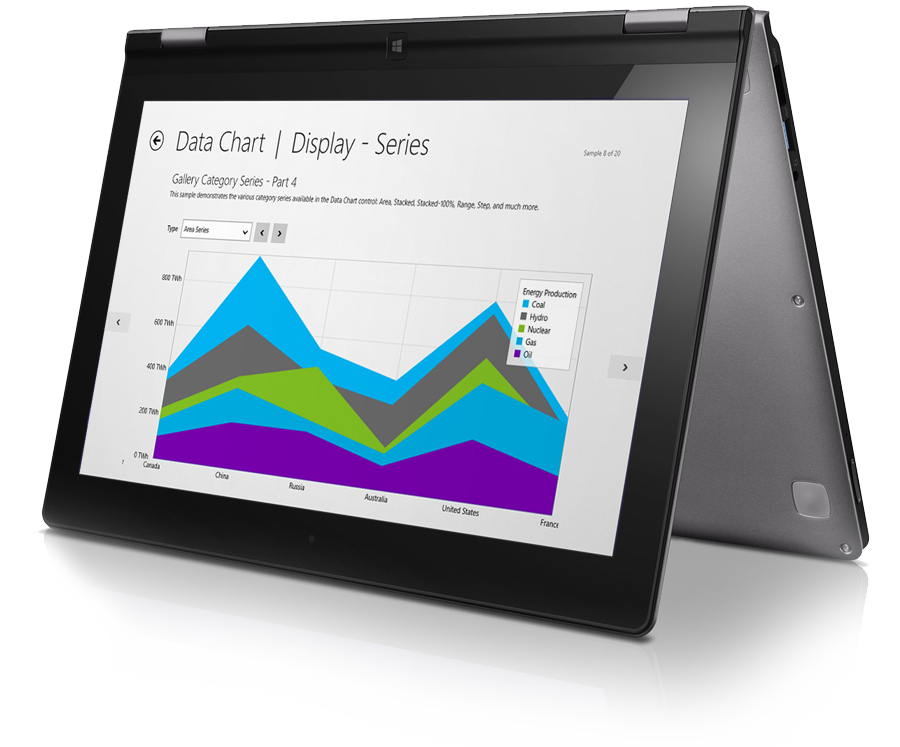 Amazing Visualizations
Let your data tell the story, with the broadest range of interactive, high performance Data Charts that include support for a full range of business, scientific, and financial charting scenarios, as well as trend line capabilities "right out of the box." This Data Chart is a next-generation charting control designed for handling a live data feed coming in with over tens of thousands of data points every several milliseconds.
Touch Optimized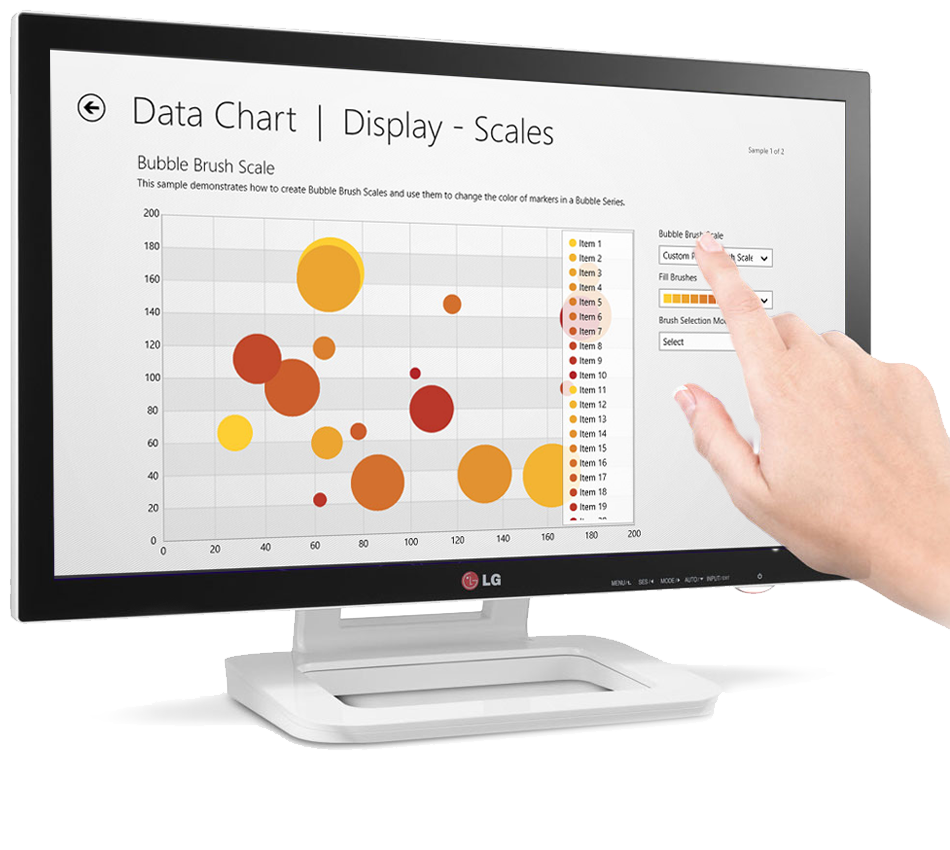 At Your Fingertips
Deliver the latest touch user interface with our new gesture supported controls - like our Editor controls - without needing to write code seperately for mouse and touch screen inputs. Touch support across HTML 5 and XAML controls offers larger buttons and gesture friendly user interfaces for commonly used interactions like grouping, multiple sorting, multiple selection, scrolling and more - no plug-ins or extensions needed.
Get Help, Anytime You Need It
We're Here for You. Technical support is important. Especially when you get stuck. And we offer the very best support on the market — and it starts when you download the trial. We provide you with BOTH case-level and forum based support 24 hours a day, 5 days a week.

Sometimes you need experts to help you get your project finished. With D3 services from Infragistics you have industry experts in design and development. Whether you need help migrating your legacy application or need some coaching on the user interface for your next mobile app, we've got the experts to help your team build something amazing.
You want to know what it takes to design experiences that propel your product to the next level? You want to learn and apply best practices in UX design? Let our UX experts show you how to do it. Or maybe you need to tackle new platforms and powerful controls by learning from the people that develop applications across industries. We have the expertise in Infragistics controls on every platform, and can bring your team up to speed so they can ensure quick success.