Mobile Support for SharePoint, Office 365 and OneDrive for Business
Get an optimized SharePoint experience on your iOS and Android devices with SharePlus by Infragistics. This native application offers the very best user experience on either platform, with the power to access, edit, and share files, lists, images, documents, and emails – with or without connectivity.

Connect to several SharePoint portals simultaneously, with no additional server components or permissions required. Whether you use SharePoint 2007, 2010, 2013, or Office 365, SharePlus delivers a secure communication through HTTPS and VPN.
Quick Access to Your SharePoint Content, Online or Offline
No connection? No problem! SharePlus allows you to add, edit, and delete files while offline and automatically re-syncs when you reconnect to the internet, with collision handling. Every time you access your information, SharePlus automatically gives you the latest version, keeping you up to date, effortlessly.

With Per Item Sync in SharePlus for iOS you can keep any content you want offline by syncing any folder, directory or single file directly to your mobile device. In SharePlus for Android the sync process is completely unattended and changed content is synchronized even if the app is not launched.
New: Support for Dropbox, Google Drive and Windows File Shares!
Accessing all your documents is now easier than ever in SharePlus. In addition to SharePoint and Office 365, you can now access and import files, annotate PDFs and more from any of the following content sources with just a few taps: personal cloud storages (OneDrive for Business, Google Drive and Dropbox), private local storage on your device (Local Files), or shared locations across your network (Network Drives). All your important files are at your fingertips in your centralized mobile SharePlus workspace.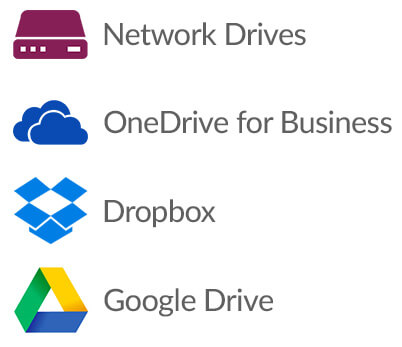 Enjoy Easy Data Editing On the Go
When you're traveling from meeting to meeting, you need the ability to edit your documents on your mobile device. With SharePlus, you can add, edit, and delete items, calendars, tasks, pictures, contacts, custom lists, discussion boards, documents, and external lists.

Take advantage of the best 3rd party applications to edit your Office documents using the "OPEN IN" feature. Or edit directly with Microsoft Office for iPad integration. You're even able to attach documents to list items, and paste picture files directly from other apps. With SharePlus for Android it's even easier: just open the document within the app, edit on the external app, and save outside SharePlus.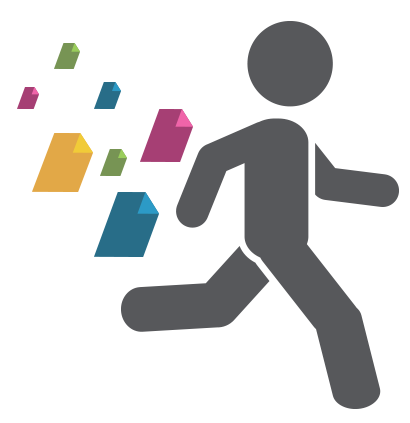 Customization & Branding Options to Suit Your Enterprise
SharePlus enables support for customization of the experience to show off your corporate brand, as well as changing the functionality of the application to suit your specific requirements. Enterprises frequently need to adjust the app functionality based on their security rules. These rules can be applied to SharePlus and may include restrictions over the general functionality or specific app features.

SharePlus Enterprise can be used as a platform to build complex Business Solutions designed for mobile devices that meet all of your connectivity, security, deployment, and configuration needs.
Bring Your Information to Your Fingertips with Enterprise Search
This feature found in SharePlus Enterprise taps into SharePoint's global search support to provide querying against everything in SharePoint – even search against your documents when you're offline. Finding information buried in SharePoint structures is simple with advanced filters that let you refine your search by scope, result type, modified date, and author. You can even use the People Search feature to locate individuals throughout your enterprise.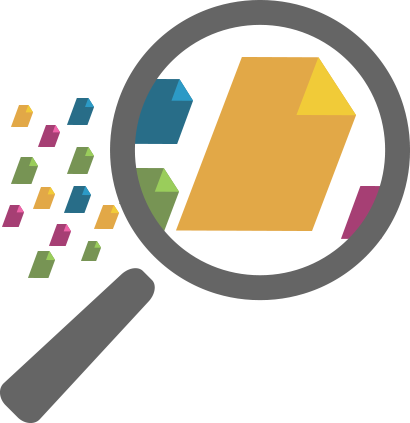 SharePlus Android Features
Secure MDM Integration
Add an extra layer of security and additional management capabilities by integrating SharePlus with major MAMs and MDMs like MobileIron, Citrix's XenMobile, Oracle's OMSS (Bitzer Mobile), among others.


Fortify Your Enterprise's Security with App Authentication
No matter what version of SharePlus you need, the security of your data is top priority. SharePlus for iOS comes with native support for those authentication mechanisms you want out-of-the-box, including Windows, Forms (FBA), Office 365, and custom Web Login. SharePlus for Android supports Windows, Forms (FBA), and Office 365. In addition, the iOS version provides an optional Passcode Lock to further protect your information.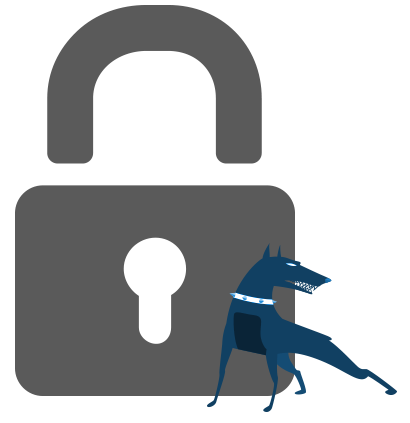 Full Access to Every List, Library, and Content Type
Along with support for the widest variety of SharePoint content types, including default types like Word, PDF, ZIP, Excel, PowerPoint, SharePlus also gives you access to any custom content types you may create.

SharePlus supports all kinds of SharePoint lists and libraries, with version-control, too. With this feature enabled, you can keep a history, track changes, and restore previous versions if needed. You can even control how your SharePoint Lists are displayed by configuring your SharePlus List Visualizations, SharePoint List Views, and Ad-Hoc Sorting & Grouping.
Resources
From walkthrough videos that are easy to follow along with, to detailed blogs and a team of experts that are ready to answer any question you might have; we've collected all the resources you'll need to explore Infragistics' Enterprise Mobility solutions.