Icons for every industry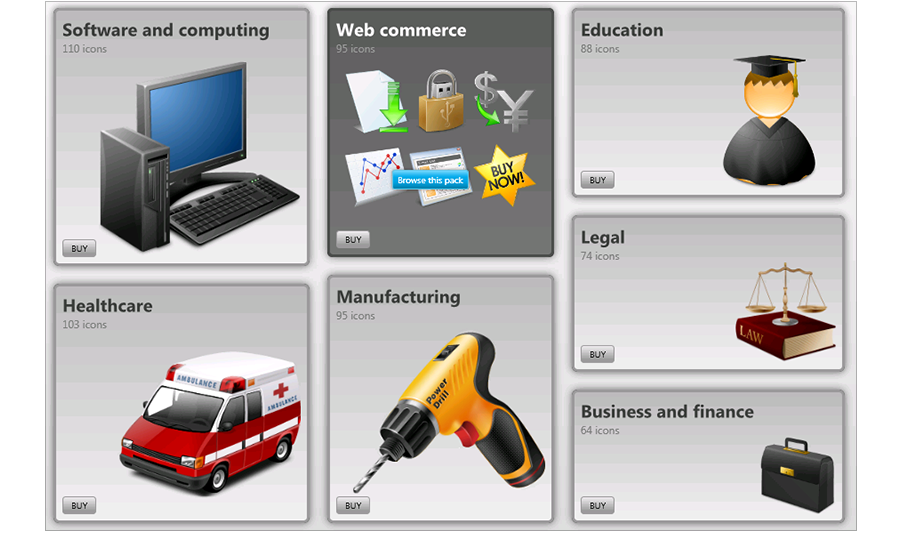 All the Icons Your App Needs
As a developer, visual designer, or Microsoft® PowerPoint® slide presentation author, you know that the right icons are integral to an exceptional user experience. If your application's UI calls for intuitive, meaningful graphics that you can quickly and easily drop into place and make your application pop, you want Infragistics ICONS. Our ICONS will give your application the visual appeal you want without the need to hire a graphic designer.
Over 350,000 Icons
See For Yourself
Our ICONS catalog features over 380,000 general and industry-specific ICONS from which you can choose and download. Check out our Icons Browser to easily find, select, and customize the exact icons (including formats, sizes, adorners, and more) that you want. You can even refer back to your own personal "My Icons" collection from anywhere and at any time based on the icon packs you've purchased using any Silverlight-capable device.
We also offer industry-specific ICONS packs that include Office Basics, Software & Computing, Business & Finance, Healthcare, Web & Commerce, Education, Legal, and Manufacturing.
Everything You Need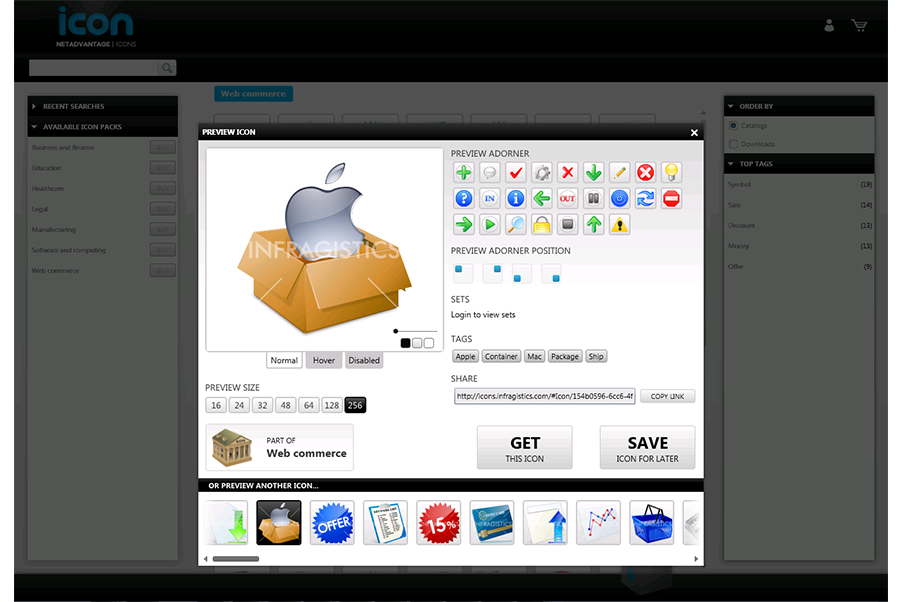 In Every Size, In Every Style
All icons are provided in seven different sizes (16px, 24px, 32px, 48px, 64px, 128px and 256px square) and as PNG files (plus an ICO file). ICONS packs (except our Office Basics package) are made available in a 100% vectorized XAML file format, so you can resize your icons with clarity and crispness. Projects for the latest versions of Visual Studio® and Expression Blend® accompany XAML icons to expedite use with your WPF resource dictionaries and WPF/Silverlight user controls and view box controls. For each icon, we also provide the icon in three interactive states: normal, hover (highlighted) and disabled (grayed-out) so you will always have icons in the right-size and style.
Get Help, Anytime You Need It
We're Here for You. Technical support is important. Especially when you get stuck. And we offer the very best support on the market — and it starts when you download the trial. We provide you with BOTH case-level and forum based support 24 hours a day, 5 days a week.

Sometimes you need experts to help you get your project finished. With D3 services from Infragistics you have industry experts in design and development. Whether you need help migrating your legacy application or need some coaching on the user interface for your next mobile app, we've got the experts to help your team build something amazing.
You want to know what it takes to design experiences that propel your product to the next level? You want to learn and apply best practices in UX design? Let our UX experts show you how to do it. Or maybe you need to tackle new platforms and powerful controls by learning from the people that develop applications across industries. We have the expertise in Infragistics controls on every platform, and can bring your team up to speed so they can ensure quick success.