All the Icons Your Apps Need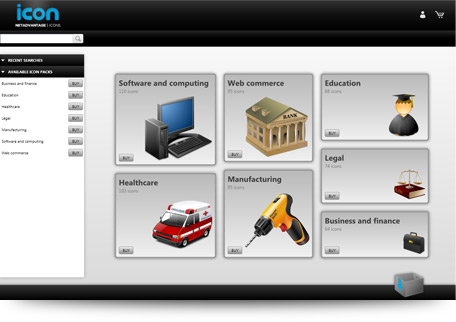 Professional Graphics to Make Your Apps Pop!
As a developer, visual designer, or Microsoft® PowerPoint® slide presentation author, you know that the right icons are integral to an exceptional user experience. If your application's UI calls for intuitive, meaningful graphics that you can quickly and easily drop into place and make your application pop, you want NetAdvantage® ICONS. NetAdvantage ICONS will give your application the visual appeal you want without the need to hire a graphic designer.
---
Check out the Browser!
Our ICONS catalog features over 380,000 general and industry-specific ICONS from which you can choose and download. Check out our NetAdvantage Icons Browser to easily find, select, and customize the exact icons (including formats, sizes, adorners, and more) that you want. You can even refer back to your own personal "My Icons" collection from anywhere and at any time based on the icon packs you've purchased using any Silverlight-capable device.
We also offer industry-specific ICONS packs that include Office Basics, Software & Computing, Business & Finance, Healthcare, Web & Commerce, Education, Legal, and Manufacturing.
---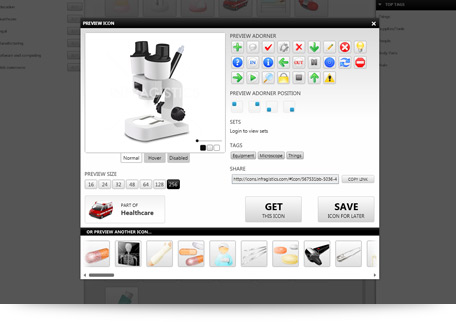 What You Get with Every ICONS Pack
All icons are provided in seven different sizes (16px, 24px, 32px, 48px, 64px, 128px and 256px square) and as PNG files (plus an ICO file). ICONS packs (except our Office Basics package) are made available in a 100% vectorized XAML file format, so you can resize your icons with clarity and crispness. Projects for the latest versions of Visual Studio® and Expression Blend® accompany XAML icons to expedite use with your WPF resource dictionaries and WPF/Silverlight user controls and view box controls. For each icon, we also provide the icon in three interactive states: normal, hover (highlighted) and disabled (grayed-out) so you will always have icons in the right-size and style you need.
---
Number of Icon Packs You Buy

 

Total Cost (US Dollars)

 
1
$199
2
$299
3
$399
Each additional Icon Pack
Only $100 more
Buy More Icons Anytime and Save!
You can save by buying 2, 3 or more icon packs at any time. This is our best value, and you get anywhere from 2 to 9 times the creative material for use in your own applications, PowerPoint® presentations and more. Buy the first icon pack for $199 and get any other packages you buy for only $100! When you consider how long it would take you to create approximately 400,000 quality images like these—it's a value you just can't beat.