Get Started with NetAdvantage for ASP.NET
Once you've downloaded NetAdvantage for ASP.NET, you can start using it quickly and easily. Check out some of our videos below to learn how you can start coding Grids, Editable Forms, and PDF and  Excel Imports & Exports.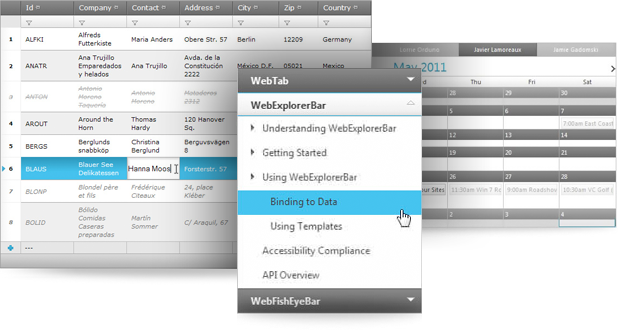 Getting Started - Installation, QuickStarts, and the Version Utility
Download and Installation
To start using the product, you need to get the latest bits and install either the trial version or the licensed version of the product.
Make sure you have the following tools and products from Microsoft installed as well:
Visual Studio 2008 or higher
Using the QuickStart Solutions
Once the product is installed, you can start to explore the product in several ways:
1) Open the Quick Start Solutions, and learn by walking through pre-defined samples with hints in the source code and code-behind
Browsing the Samples & Source Code
Finding and Using Help
3) Review the product documentation, and learn from the How To articles or the API documentation
Upgrading a Project or Solution
If you have an existing application, you can use the Version Utility to upgrade your project to the latest version.
Start Coding Grid
WebDataGrid Pay To Play Model
This video describes the WebDataGrid Pay To Play Model which utilizes memory and resources just for the features you implement. After watching this video, you will understand how WebDataGrid and WebHierarchicalDataGrid are designed to give you optimal performance and feature balance for your ASP.NET Applications.
Creating a Hierarchical ASP.NET Grid
Learn how to use WebHierarchicalDataSource together with the WebHerarchicalDataGrid.
Coding Editable Forms
Creating a CRUD experience with the ASP.NET grid
Understanding how to perform CRUD (Create, Read, Update, Delete) operations is critical to your success with the grid.
Start Coding PDF & Excel Import and Export
Export Grid Data to Excel
In the NetAdvantage for ASP.NET package, there are a bunch of libraries for widely used formats like Excel, PDF & Word that are essential for any enterprise-grade line of business application.
Export Grid Data to PDF and XPS formats
Learn how to export WebDataGrid to a PDF or XPS document, easily, with the document exporter component.
Creating a Dialog for WebDataGrid
Creating a Dialog for WebDataGrid
Want to learn how to make a dialog overlay for your Grid? In this video, you will learn how to use WebDialog to provide your end users with a typical dialog that shows over your data.