ASP.NET Captcha
Protect your Web applications against automated spam with our highly configurable CAPTCHA that's easy on people, but tough on bots!
Wide Range of Security Options
Multiple challenge modes include distorted images generated by dictionary, math-like challenges, question-and-answer challenges, and image recognition challenges (e.g., Can you identify the Eiffel Tower?).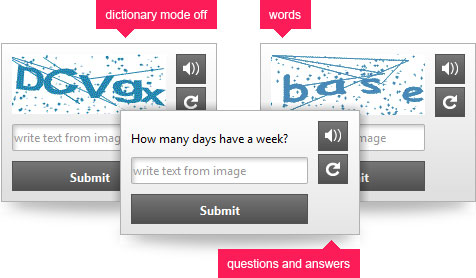 Accessibility Support
WebCaptcha has tremendous accessibility support, being fully keyboard accessible and offering support to regenerate hard-to-read images, even reading challenge text aloud via its audio support.

View Sample
Tough on Bots
WebCaptcha protects your application from spam bots and crawlers with its security countermeasures that include hidden textbox protection during form submission, timeout protection from denial-of-service agents, and strict error message validation.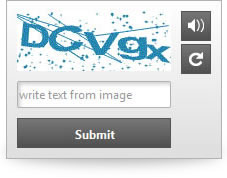 View Sample