WPF Outlook Bar
Design a navigation bar similar to the one from Microsoft® Outlook®, with built-in docking, fly-out, collapsibility and group overflow menu features.
Outlook ListBar
Control that matches the presentation of Outlook 2007/2010 navigation bar.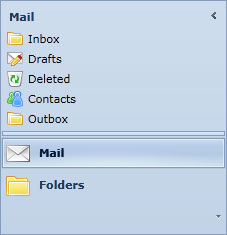 Collapsible
Users can at any time collapse the xamOutlookBar so that it retracts to a vertical bar, yielding maximum space to your application. 
Dynamic Overflow
When groups exceed the space available to them in the Outlook group bar, the UI can compress to a small icon.  

Splitter Separator
Users can govern how much space the xamOutlookBar's selected group content receives by using the group area splitter bar dividing the selected group content from the groups presenter.