Infragistics React vs Highcharts
React Optimized Charting
The Fastest HTML5 Chart on the Market
Most Complete Charting Library of Over 65+ Chart Types plus Financial Charting and Geospatial Mapping
Rich UI Controls like Data Grid / Data Table
Full-Featured Microsoft Excel Library with Chart-Exporting Capability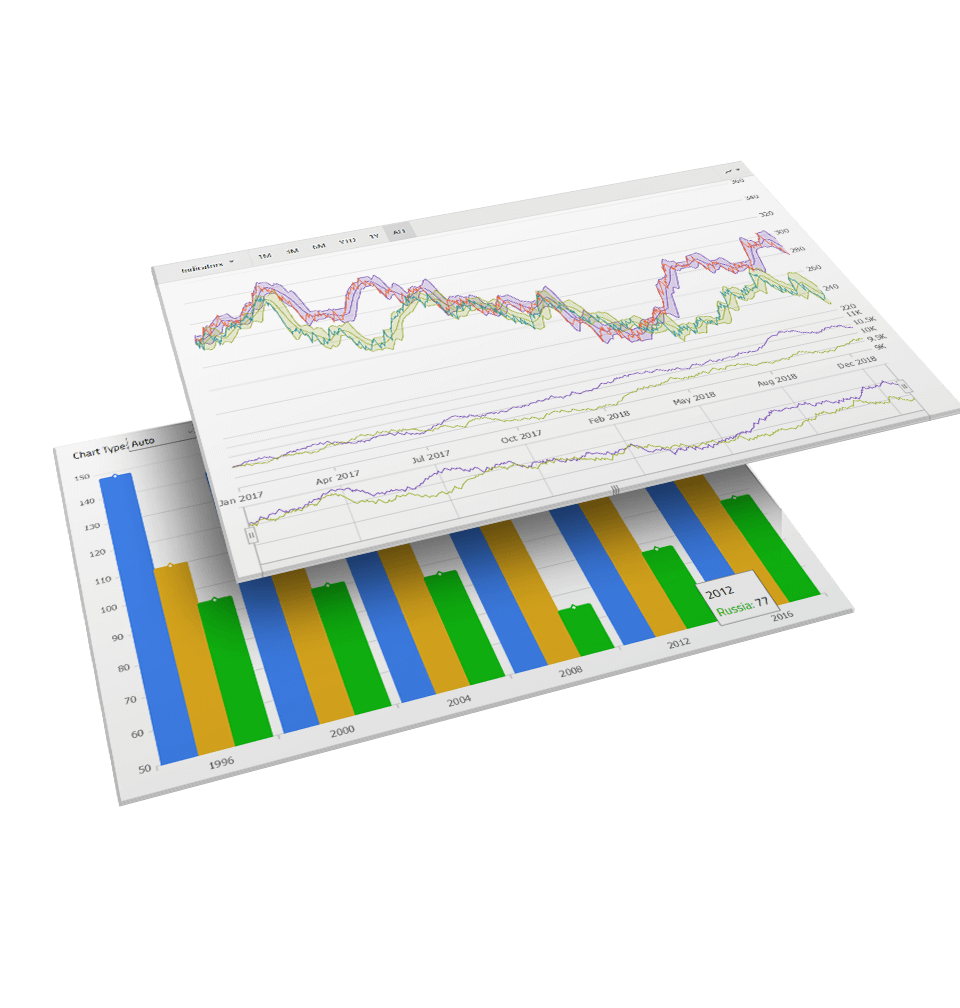 See Why Ignite UI for Angular Tops the Charts:
| Ignite UI for React | Highcharts |
| --- | --- |
Product Breadth

React Table / Grid, Charting, Excel Library, Geospatial Mapping, and more.

Chart only. No Grid control, No Excel Library, no line-of-business controls.

Grid Performance

Fastest React data table on the planet.
Focus on UX - Virtualized Rows and Columns in Grid – handle unlimited data with seamless scrolling. Full support for real-time updating and native Angular templating.

Chart Performance

Fastest HTML5 Chart on the planet.
Milli-Second load times for millions of data points in chart with real-time streaming data support.
12 Series Types, 65+ Chart Types.
Financial Charting

SVG render only – causing slow rendering with any meaningful data volumes.
Chart crashes browser with high data volumes.
Complex interactions make chart unusable (Tooltip hovering, Mouse panning and zooming, etc).

Support

US, Japan, London, India and Sofia based technical support, global account management and direct pre- & post- sales support
24x5 Technical Support
48-hour standard support response time
Public forums, Email, Chat and Phone support

Limited support options in CET (Central European Time)
No account management, No Technical Pre or Post-Sales
Limited to 10 hours of support for the 12 months

Pricing

Simple pricing for all UI controls and components for 1 price.
$695 per developer
Unlimited applications
No Server, deployment, royalty or runtime fees
Open Source + Commercial License

Complex pricing for a Visualization-only offering.
$445 per-developer for Charting Only. $615 with support.
$1,340 per-developer for Charts + Financial Chart + Maps without support. $1,510 with premium support.
Free creative commons (cc) attribution-noncommercial license, for non-profit and/or personal use.
Additional Information to Help You Decide
If you are considering any other React Charts on the market, here are a few things to think about:
Simplest configuration on the market with our smart data adapter.
The chart is optimized per platform. We have a native Angular chart, a React chart, a jQuery / JavaScript chart, a WPF chart, a Windows Forms chart, and a Xamarin chart, all supporting the same API and same features on every platform.
Our financial charting gives you everything you need for a Yahoo Finance or Google Finance-like experience – all with a single line of code.
We test against everyone else's performance. People say they are fast and can handle lots of data, but we can prove it. See for yourself how we handle high-volume data and real-time data streaming.
We have more than just Charts – we offer React Grid / Table, Excel Library and more with a full roadmap of new capabilities and controls shipping every month.