Careers at Infragistics
We encourage growth, innovation, and collaboration, in our products and in our people
At Infragistics, our core values shape everything we do, from acquiring talent to creating software and beyond

Innovation is in Our DNA
For the past 30 years, our customers have used our products and services to create experiences that matter, from lifesaving cardiology tools to nutrition education software and more. What will our customers create with your input?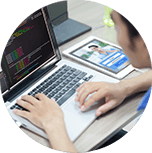 Developer Tools
Trusted by more than two million developers, our enterprise-ready user interface toolsets deliver high-performance applications for web, desktop and mobile, along with Indigo Studio, a time-saving rapid UX prototyping solution.
Learn More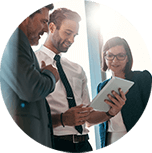 Enterprise Mobility
Fortune 500 companies rely on SharePlus, a mobile collaboration solution for accessing, creating, and sharing content, and ReportPlus, a self-service data visualization and reporting tool, to transform how teams work.
Learn More
Limitless Potential for Professional Growth
At Infragistics, we know that your day job is just one part of your life
We want to help you be the best developer, marketer, or professional you can be. We nurture a culture of inclusion, creativity, and respect, even after normal working hours. We take advantage of technology that enables employees all over the globe to connect, share their knowledge, and better themselves in ways you won't find anywhere else.
Hackweek

Five days, endless possibilities! Each year, teams of Infragistics coworkers huddle up and take on fun projects like a Virtual Receptionist, a Segway-style TeleBot for remote workers, and a mobile time-tracking app.

UXify

UXify is Infragistics' own annual half-day conference about designing great digital experiences. It brings together the community of academics, practitioners, technologists, and business leaders for conversations on applied design, UX, content strategy, and development.

XLR8

Infragistics' first self-hosted developer-focused event, XLR8 2016 explored the insights of some of the sharpest minds in the fields of JavaScript and mobile development. We dove into the latest trends and best practices in software development to help developers become even more successful.
We Take Care of Our People
At Infragistics, we invest in our employees, empowering them to innovate together and reach their professional goals faster
In addition to working in an open, friendly, collaborative environment with cutting-edge technologies, you'll enjoy exclusive benefits that allow you to expand your career, clear your head, and be more productive overall. Here's a look at some of the benefits of working in our international offices in the United States, Bulgaria, and Uruguay.
United States

Company-provided external and internal training
On-premise cafeteria, on-site chef, and unlimited free fruit & drinks
Relaxed dress code
24-hour access to fitness center
Health benefits begin day of hire
Save 10% on monthly wireless plans with AT&T
Cool, modern office building
Open PTO
Flexible work hours
Pool table, ping pong table, basketball hoop, corn hole, and more
BBQ's in the summer
Fire pit in the fall

Bulgaria

Company-provided external and internal trainings (English, UX training, Microsoft certification, ISTQB certification)
Additional health insurance
Company-provided food & beverage program
Open PTO
Flexible work hours
In-office massages
Food vouchers
Sport and relaxing activities–gaming room with an Xbox One, table tennis, foosball, as well as yoga and morning gymnastics in the office
Chance to express yourself - share your hobby by setting up a club or join one of the existing clubs, including a book club, cooking club, and photography club

Uruguay

Work with many other skilled developers all over the world
Company-provided external and internal trainings (English, UX training)
Company-provided food & beverage program
Open PTO
Flexible work hours and remote working options
Fun activities like Xbox and ping-pong
Chance to participate in our office choir or start a group of your interest
Comfortable office in Pocitos
Infragistics gives me the opportunity to work with the sharpest minds in technology in spirit of innovation and collaboration, driving everyone to the brightest horizons.

Stefan Ivanov, UX Architect