Ignite UI for Blazor (preview)
Build client-side web UI with .NET.
Create rich UI using your existing C# skills and eliminate the need to learn JavaScript. Build the most modern web apps with Ignite UI for Blazor that offers the highest performing data grid, over 50 chart types, financial charting, Excel spreadsheet and Excel library, and more.
The Lightweight Blazor Data Grid
The lightweight Blazor Data Grid was built to meet the challenge of displaying large amounts of data while providing superior versatility and performance on mobile devices.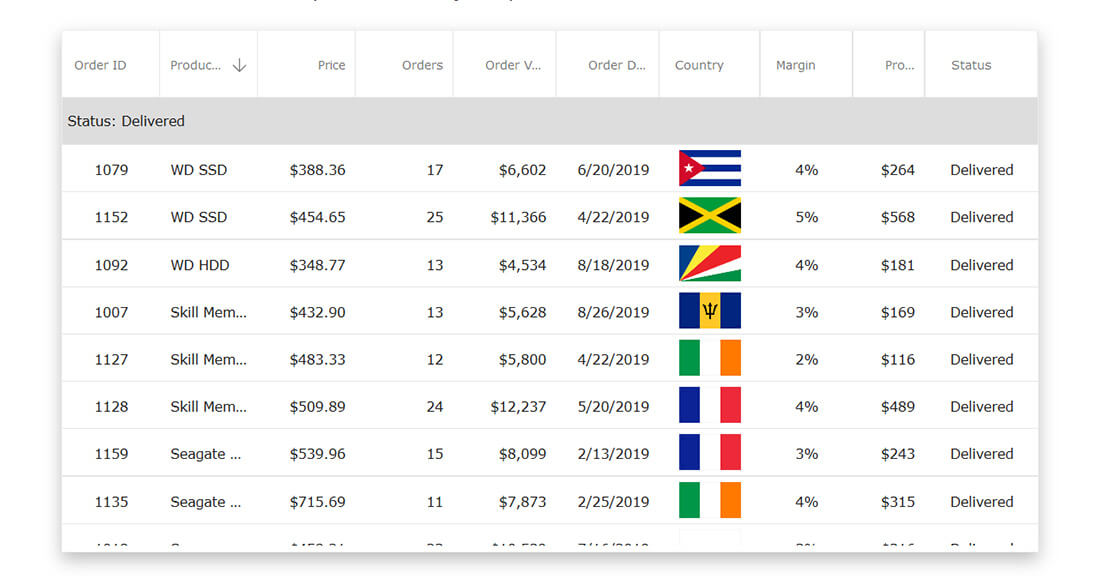 Built for Business. Built for Speed.
The virtualization engine provides a world-class foundation on which our core line-of-business features rest. Take a look below:
Virtualization and Performance
DataSource
Column Grouping with Sticky Headers
Built-in Columns
Column Filtering
Column Moving
Column Resizing
Column Sorting
Row Pinning
Responsive Layout
Animation
Collapsible Group Headers
Live Scrolling
Selection
Hierarchical Group Headers
Real-Time and High-Volume Data Charts
Build expressive dashboards, apply deep analytics, and render millions of data points with our real-time Blazor charts. Including the most asked for financial and category charts, Ignite UI for Blazor fulfills your fintech and business needs.

A Blazor Chart for Every Occasion
Your charts shouldn't just be fast; they should be all-encompassing. With every common category chart type – bar, line, column, pie, area, stacked series, and more – you can visualize your data the way you prefer. In need of financial charts? We offer the same features you come across with Google Finance and Yahoo Finance Charts.
Axis Labels
Axis Titles
Axis Tickmarks
Axis Ranges
Axis Interval
Axis Scales
Data Binding
Legend
Real Time Data
Highlighting
Custom Overlays
Financial Indicators
Trendlines
Built-in Markers
Annotations
Customization
Custom Tooltips
WAI-ARIA Support
Follow us for the latest news and updates