Ignite UI for Angular
50+ Material-based UI components designed and built on Google's Angular framework
The Fastest Angular Data Grid
Developers choose Infragistics Angular Data Grid component because our virtualization directive ensures that large data sets are handled smoothly. Quickly bind data to the grid with little coding or configuration, and an intuitive API allows for easy theming and branding. View all Angular Data Grid Samples »
High-Performance Angular Charts
New Angular Chart components include the lightweight, high-performance Financial Chart, and Category Chart. Display data in one of many chart types, including: line, area, column point, spline, step, waterfall and more. View all Angular Chart Samples »
Simplify Web Development
The Ignite UI for Angular Command Line Interface (CLI) helps developers streamline web development by automating frequently used manual processes and providing industry-standard scaffolding for project files. Try the CLI »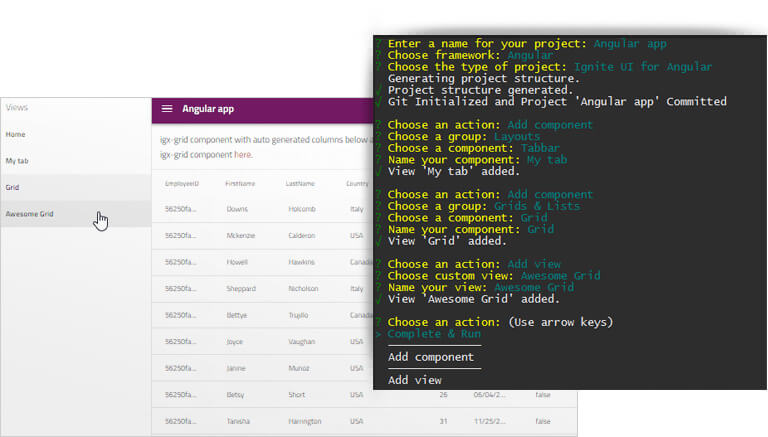 Good-Looking & Feature-Rich

Developer Productivity
Build Apps Fast
Build your apps fast with a wide selection of easy to use Angular UI components.
High Performance
Designed and optimized for high-performance, high-volume data scenarios.
Available on npmjs
Easy to install and update from npmjs.

Full Development Story
Sketch UI Kit
Pixel-perfect design with Sketch UI Kit.
Work Smarter
Import your Sketch designs into Indigo Studio for rapid UX prototyping and user testing of your app.
Sketch Library
Take advantage of the 1:1 matching of sketch library symbols to our Angular UI components.

Enterprise-Ready
Performance
The best-performing Angular data grids and data charts for enterprise-grade demands.
Support
24x5 phone and chat support, forums, documentation, enterprise account managers, optional Angular training available.
Accessible
a11y Keyboard accessibility, ARIA & accessible color palette.
What's upcoming for Ignite UI for Angular?
2018 Ignite UI for Angular Roadmap
Transforming Infragistics Ignite UI into a single platform for UX designer and application developer productivity is in the direct line of sight for Infragistics.
Starting with the April 2018 release of Ignite UI for Angular, we are shipping broader capabilities in the toolset, but more impactfully for developers we are adding key features to our Angular Data Grid, a brand new native Angular Charting component, and new additions to the Ignite UI CLI.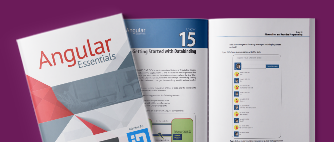 Free Angular eBook
From the initial structuring to deployment, Angular Essentials provides step-by-step guidance to Angular, Google's framework for building applications for both web and mobile platforms. Download the eBook.
Pricing
$0
per developer, royalty-free subscription
50+ Material-based Angular Components
Includes source code
Standard support included
Indigo.Design Enterprise
$99/mo
per user or $995/yr (includes 10% discount)
Sketch components and UX patterns
Angular UI framework (Ignite UI)
Code generation from prototypes
Cloud prototyping with usability analytics, video replays, commenting, and group collaboration
$0
per developer, royalty-free subscription
Ignite UI for JavaScript - jQuery based toolset with extensions for Angular, React, Bootstrap, Knockout & ASP.NET MVC
Ignite UI for Angular - Material-based Angular UI toolset built on the Angular framework
Includes source code
Standard support included