Ignite UI for Angular
50+ Material-based UI components designed and built on Google's Angular framework
The Fastest Angular Data Grid
Our Angular Data Grid can handle unlimited rows and columns of data, while providing access to custom templates and real-time data updates. Featuring an intuitive API for easy theming and branding, you can quickly bind to data with minimal code.
Built for Business. Built for Speed.
The virtualization engine provides a world-class foundation on which our core line-of-business features and components rest. Take a look below:
The Fastest Angular Charts
Build expressive dashboards, apply deep analytics, and render millions of data points with our real-time Angular charts. Including the most asked for financial and category charts, Ignite UI for Angular fulfills your fintech and business needs.

A Chart for Every Occasion
Your charts shouldn't just be fast; they should be all-encompassing. With every common category chart type – bar, line, column, area, pie, and more – you can visualize your data the way you prefer. In need of financial charts? We offer the same features you come across with Google Finance and Yahoo Finance Charts.
Angular category chart samples Angular Financial Chart Samples
Angular for Designers: From Sketch to Code in 1 Click
We've bridged the gap between Sketch and Angular. Using our Sketch UI kits from Indigo.Design, craft beautiful experiences and generate pixel-perfect Angular code… all in one click!

Save Hundreds of Hours Coding
Using the tools you love, like Sketch and Visual Studio Code, streamline your design to developer handoffs. With 50+ Sketch components that map directly to Angular, our Visual Studio Code plugin will generate HTML, CSS, TypeScript, and Angular code. Learn more about Indigo.Design.
Use our CLI with NPM to Generate Apps in Seconds
Using Ignite UI for Angular Command Line Interface (CLI), quickly create new Ignite UI projects or add components and views to existing projects. You can even create and share your own custom, branded templates to ensure consistency in the app building process.
No need to change your workflow to stay productive; every feature of Ignite UI for Angular is available via NPM. We've architected Ignite UI for Angular for total optimization in file size and render speed in the browser.
Free Trial
Angular App Gallery
We've built two end-to-end Angular apps with Sketch designs and interactive prototypes included. All you need to do is copy the code and re-brand for your company.
To learn more about how you can use Sketch, Indigo.Design Cloud, and Angular together, sign up for a free trial of Indigo.Design.
What's upcoming for Ignite UI for Angular?
2018 Ignite UI for Angular Roadmap
Transforming Infragistics Ignite UI into a single platform for UX designer and application developer productivity is in the direct line of sight for Infragistics.
Starting with the April 2018 release of Ignite UI for Angular, we are shipping broader capabilities in the toolset, but more impactfully for developers we are adding key features to our Angular Data Grid, a brand new native Angular Charting component, and new additions to the Ignite UI CLI.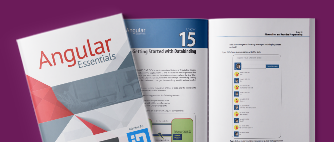 Free Angular eBook
From the initial structuring to deployment, Angular Essentials provides step-by-step guidance to Angular, Google's framework for building applications for both web and mobile platforms. Download the eBook.
Pricing
$0
per developer, royalty-free subscription
50+ Material-based Angular Components
Includes source code
Standard support included
Indigo.Design Enterprise
$99/mo
per user or $995/yr (includes 10% discount)
Sketch components and UX patterns
Angular UI framework (Ignite UI)
Code generation from prototypes
Cloud prototyping with usability analytics, video replays, commenting, and group collaboration
$0
per developer, royalty-free subscription
Ignite UI for JavaScript - jQuery based toolset with extensions for Angular, React, Bootstrap, Knockout & ASP.NET MVC
Ignite UI for Angular - Material-based Angular UI toolset built on the Angular framework
Includes source code
Standard support included