Seven Secrets To True Team Productivity With SharePoint
Big advancements in mobile productivity have led to a greater focus on collaboration, with workers who are now able to connect on a constant, global scale to more resources than ever. But how do you capitalize on this mobile movement and boost your team's productivity?
In this white paper, we explore six ways mobilizing your SharePoint environment with Infragistics' SharePlus fosters the efficiency of your team, including:
the ability to work on documents even without a connection;
advanced social interaction and security features;
quick access to content; and more.
Download now and learn more about how SharePlus combines robust security features with a slick interface to keep your employees productive on the move.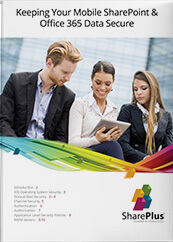 Download Now