Indigo.Design
Academic License Program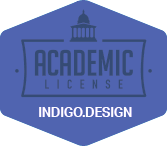 Get a FREE Academic License for Indigo.Design!
At Infragistics, we believe fresh ideas come from fresh minds. That's why we're offering Indigo.Design free of charge to eligible applicants for 12 months – no strings attached. As long as you meet the eligibility requirements outlined below, Indigo.Design is yours FREE for an entire year!

Eligibility requirements: You must be a faculty member or student at an institution that grants a degree or diploma. Redemption and log-in requires a valid school-issued email address to be used for the full year.