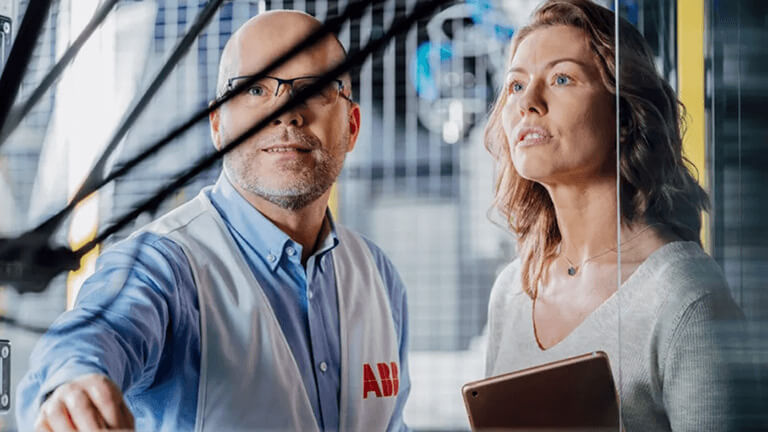 ABB Keeps Power on to the World's Trains, Grids, and Turbines
ABB (ABBN: SIX Swiss Ex) is a leading global technology company that energizes the transformation of society and industry to achieve a more productive, sustainable future. By connecting software to its electrification, robotics, automation, and motion portfolio, ABB pushes the boundaries of technology to drive performance to new levels. With a history of excellence stretching back more than 130 years, ABB's success is driven by about 105,000 talented employees in over 100 countries.
Among its many products, ABB provides train traction converters that convert the power from overhead lines (with their varying voltages and frequencies) into the power delivered by the traction motors in trains. As the technology driving this huge infrastructure modernizes, ABB also needed to modernize its software and selected Infragistics UI controls to help visualize the signals used for traction control.
The Challenge
Vast Increase in Data Streams Challenges Converters
To help power trains, ABB's traction converters (that convert power from overhead lines) include charting controls that monitor the accuracy of the power conversion in real time, and these controls are continuously being observed. For years ABB used legacy software that required constant maintenance, testing, and upgrading — a significant drain on developer time. What's more, the controls could not handle the increasingly large data streams coming from newer and more complex applications involving several converters and a significant increase in the number of signals.
The Solution
While ABB had built the existing charting controls in-house, they were using Infragistics Professional to design other parts of the UI software. But as they began looking for solutions to their charting demands, they realized that the answer was right within the software package they already had: Infragistics Professional includes many controls and components, including very robust, fully tested, and feature-rich charting controls.
Proof of Concept in a Week
To determine whether the Infragistics charting controls could meet the real-time needs of its traction signal visualization software, Infragistics created a proof of concept for ABB within one week.
"We needed to have this POC done quickly and this is not something many vendors do on such a quick timeframe," says Srinivasan Sukumaran, ABB India Traction R & D Technology Manager. "Infragistics turned it around for us in less than a week."
The POC not only proved to ABB that the charts would perform better, be more flexible, and require less maintenance, the POC helped their engineers to learn how to use the controls much faster, cutting the development time to integrate the control into the software by an estimated 25%, according to Sukermarin.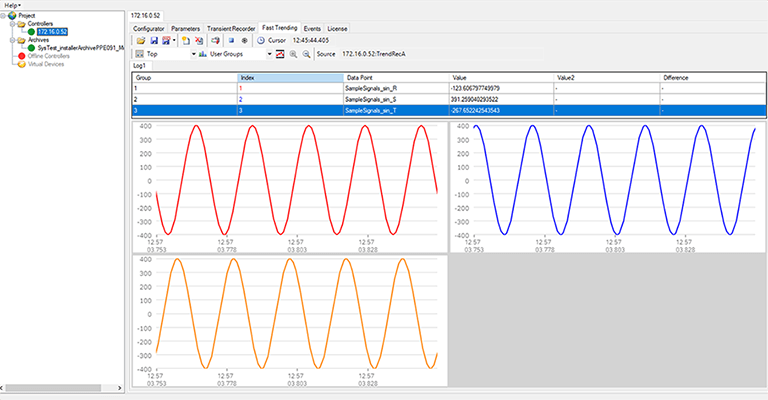 The Benefits
Faster Upload Speed and Chart Flexibility
Since integrating the new controls into their traction software, ABB is seeing much faster data loading times, and much greater flexibility.
"The new charts load data much more quickly than before, which is essential because it's live data," says Vinil Sarode, ABB India Traction R & D Product Owner. "The control also gives us much greater flexibility as the end-user can split the display or chart into multiple charts easily, letting them view multiple critical functions quickly at a glance. And we can add markers, or labels, or narration, which further helps the end-user to quickly interpret data."
Markers are visual elements that display the values of data points on the Infragistics chart control's plot area and help ABB customers to immediately identify a data point's value even if the value falls between major or minor grid lines.

Value of Infragistics Localization and Globalization
As mentioned earlier, ABB's traction software application is used worldwide, wherever there is a conversion of electricity from one form to another, or from one standard to another, to synchronize multiple sources, like a grid, or solar panels, or windmills. The problem is that standards vary across many countries and, when two power sources are not properly synchronized, it dramatically impacts how values appear in the charts.
To enable visualization of these signals during commissioning checks, ABB engineers must write extra code to adjust to these variations.
Infragistics offers built-in localization so that the controls adhere to system settings based on country/locales. This means variables like dates, numbers, and others are all formatted correctly without ABB developers needing to write code to address these inconsistencies country by country.
Also, Infragistics' core controls support right to left rendering, or mirror-imaging, so countries in the Middle East can read the charts correctly.
Cross-Platform Support Future Proofs ABB Software
As ABB contemplates its direction in the next few years, it takes comfort knowing that the investment it is making today with Infragistics will serve it well into the future.
Infragistics Professional UI software is built for cross-platform use and allows sharing of code between frameworks, such as Angular, React, ASP.Net Core, Blazor, and more. ABB is considering new frameworks in the near future, so it is excited about this capability.
"With our legacy control, we would not have been able to upgrade to new frameworks, but with Infragistics we get this added flexibility, and this is among the key reasons we chose Infragistics over other solutions."
Create Your Own Success Story
Infragistics Professional
UI frameworks, controls, and productivity tools for building high-performing web, mobile, and desktop apps.
Download Trial
Contact Us
Find out how we can help make your next project successful.
Contact Us