Activity Theory & Hierarchical Task Analysis
UX design is about understanding behavior and designing UI solutions to support it. Most UX professionals would agree that the analysis phase of a UX design project is crucial for the quality of the design. That's where Activity Theory and Hierarchical Task Analysis come in.
In this white paper, you will learn more about:
How Activity Theory provides a framework to focus UX design analysis;
How Hierarchical Task Analysis provides a practical technique for executing UX design;
What steps you can take to implement these analysis methods in your own work; and more.
Download this report today and discover why Activity Theory and Heirarchical Task Analysis are known as the Power Couple for Effective UX Analysis!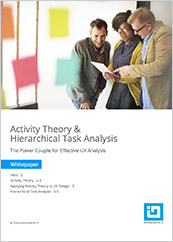 Download Now