The Business Value of UX
Companies that haven't yet realized the importance of good user experience risk being surpassed by competitors who are already reaping the benefits of well-designed consumer and business products. But what can good UX really do for your business?
In this white paper, we explore the impact of good user experience on the enterprise by looking at specific examples, including:
Increased sales, customer satisfaction and loyalty;
Reduced development cost and time;
Decreased need for training and documentation; and more.
Giving your customers well-designed products is beneficial not just to your users but to your business – download this white paper now to learn more!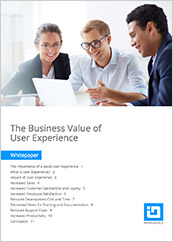 Download Now