Desktop to Web Application Migration
The high cost of desktop application support and the sudden mandate to support a wide variety of devices are some of the compelling business drivers forcing enterprises to migrate applications from the desktop to the Web. But migrating desktop applications to the web requires careful, comprehensive planning. That's where Infragistics comes in.
The framework outlined in this white paper will get you through the various steps involved in the migration process:
vision
analysis
design
implementation
Before you set out to modernize the user experience of your applications while leveraging the power of modern web platforms, download your free white paper and get concrete guidance through every step of your digital transformation project, from the initial idea to finished product.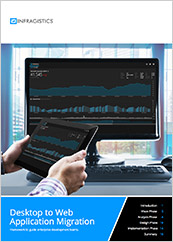 Download Now