Making Technology Personal...Again
Successfully and consistently bridging the gap between people and technology requires a systematic process of design that evolves our relationship with technology and makes us partners with it, rather than simply users of it. Implementing such a process is what separates successful, innovative companies from the rest.
In this white paper, we will explore:
Early Design Process and the End of an Era
The Importance of Being Personal
Minding the Technology Gap
Rediscovering Design Process
Design Responsibility
Recognize the gap between what people need and what technology is forcing them to do – download this white paper now to learn more!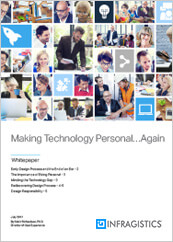 Download Now