Racing, the Human Challenge and Making Data Useful
There is a lot of data out there. There is also a lot of discussion about how it holds the key to business growth, large scale innovation, peace, love, happiness and prosperity. The key, of course, is being able to take actions based on it.
In this white paper, we explore how a solid user experience (UX) team can help you:
Understand the nature of what you're trying to accomplish;
Determine what data is most useful;
Translate data to reality; and
Apply that knowledge to real life.
Collecting data is easy. Interpreting data is where the difficulty lies. Download this white paper today and see how UX makes a difference when trying to make data useful.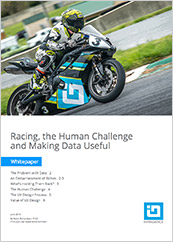 Download Now