The ROI of UI Toolkit Standardization
Standards are key to a successful software development. The most profitable products are designed, tested, and implemented on a single, robust set of UI patterns and controls to create the ideal user experience across the board.
In addition to great UX, this white paper explores all the ways that standardizing your UI toolkit will benefit your enterprise, including:
shortening your time to market;
lowering the total cost of ownership (TCO);
raising your return on investment (ROI); and more.
Download your white paper today and see for yourself how standards-driven user experience can ultimately increase your productivity, your market share, and your profits.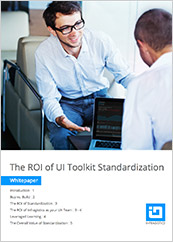 Download Now