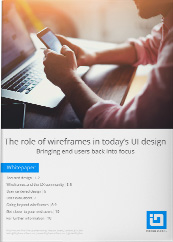 The role of wireframes in today's UI design
UI sketches have long been an essential part of the design process. By presenting initial ideas to key stakeholders and end users, you eliminate the need for time consuming revisions and become more efficient. But as technology has developed, so have these sketching tools.
In this whitepaper, we discuss:
Wireframes and the UX community;
The benefits of user-centered design and user evaluation;
Digital prototypes as he next generation of wireframes; and more
Ready to streamline your development process and get from design to finished product faster? Download this whitepaper and get solid guidance as you explore the role of wireframes in UI design.