The WPF Roadmap: 2015 and Beyond
When Microsoft introduced the Windows Presentation Foundation (WPF) in 2006, it represented a real step forward in application design and development. Unfortunately, the lack of active development efforts in recent years have left many wondering what the future holds for this framework.
In this white paper, we will:
explore Microsoft's strategy in greater detail
summarize the history of WPF
highlight the strengths of the platform
analyze the future of WPF
Including in depth coverage on recent improvements and major upgrades planned for an upcoming release, this white paper serves as a comprehensive resource on all the reasons why WPF will continue to be an essential development tool for years to come. Download your copy today!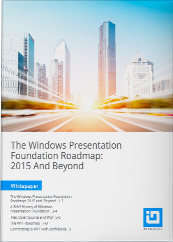 Download Now