Avatar + Badge
Use the Avatar + Badge Pattern to complement the graphical representation that the Avatar provides with a short subtle message or indication for an alert or notification.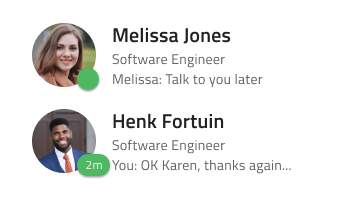 The Avatar + Badge Pattern comes with the styling flexibility provided by the Avatar and Badge that constitute its layout.
Size
The Avatar + Badge Pattern supports the same sizes that the Avatar does:
Large - Suitable for profile pages
Medium - Appropriate for custom menus and visualizations
Small - Easily embedded in a contact list and similar repetitive scenarios
Position
The Badge comes positioned in one of the four corners of the Avatar as shown below.
Bottom Left
Bottom Right
Top Left
Top Right
Additional Resources
Related topics:
Our community is active and always welcoming to new ideas.